There's a lot of Harry Potter-related fun going on this fall at Lone Star College-CyFair for students and community members alike.
Approximately 100 people attended the Aug. 3 birthday party and paperback release of "Harry Potter and the Cursed Child, Parts One and Two," which LSC-CyFair's Follett Bookstore cohosted with the Harris County Public Library LSC-CyFair Branch.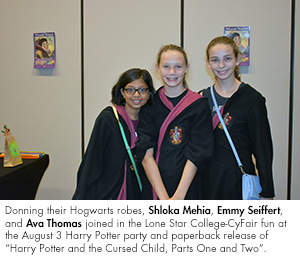 "We went because my daughter is a huge Harry Potter fan," said Jennifer Montgomery. "There was a wide range of activities for her to enjoy and she hasn't stop smiling since she arrived."
The kick-off celebration featured Harry Potter-themed activities, wand making, trivia, games such as quidditch and pin the glasses on Harry, a photo booth, snacks, raffles and prizes.
The magical fun continues into the fall as LSC-CyFair's Center for Student Life welcomes returning and new students with Harry Potter-themed opening week events beginning Aug. 28. Among the week's events for wizards and muggles are breakfast, the Ministry of Magic with Magician Nash Fung, a cookout and a movie night. For event information, email centerforstudentlife@LoneStar.edu.
The week concludes with the college's quidditch match set Sept. 1. Sign up begins Aug. 28 in the Center for Student Life. For information, email CF-RecSports@LoneStar.edu
It's not too late to be a part of these Harry Potter events or to register for fall classes that start Aug. 28. For enrollment information, go to LoneStar.edu/registration.