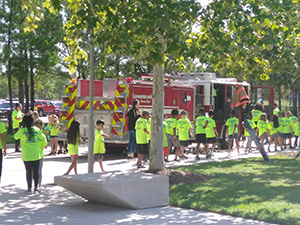 Playing tricks on others can be funny, but not all pranks are harmless as 700 students and staff from Cypress-Fairbanks Independent School District's Club Rewind Summer Camp recently learned at Lone Star College-CyFair.
Division Operations Manager Heidi Scanio and a team of LSC-CyFair employees hosted the CFISD campers' two-day field trips at the Barker Cypress campus. This was the second year the college partnered with Club Rewind to provide a glimpse of college life as well as mix an educational lesson with some fun.
"Last summer, we led a nature walk on campus in which students saw our bat houses, solar panels, wind turbines, lakes and more. Then they learned to appreciate their uniqueness through the 'Freckleface Strawberry: The Musical,'" said Scanio. "This year, the students were treated to a funny, yet meaningful, safety talk about pranks and tricks."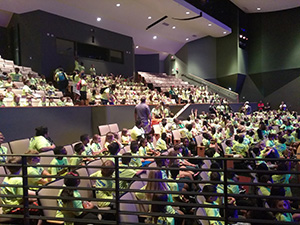 During her safety talk, Scanio put a raisin on her tooth pretending she had a missing tooth. She also showed silly pictures of people's reactions to pranks, which led to an interactive discussion of good and bad pranks and what to do if they witnessed a prank.
Following Scanio's talk and lunch, the students enjoyed a reprise of the college's summer children's musical about a rascally little girl who plays tricks on everyone.
Nicole Ray, CFISD Assistant Superintendent Communication and Community Relations, said the partnership with LSC-CyFair is sincerely appreciated as are the opportunities they provide to CFISD students.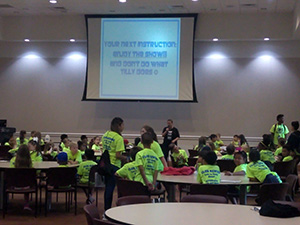 "The students were able to get a first-hand view of college life and participate in an educational lesson," she said. "The grand finale for these lucky students was attending an outstanding performance of 'Tilly the Trickster' performed by the drama department."
In addition to hosting the Club Rewind visit, LSC-CyFair employees volunteer at various CFISD events, such as Salute to the Stars and participate in programs, such as Bus Buddies and Adopt-a-School.
For information on CFISD community involvement opportunities, go to CFISD.net. For information on LSC-CyFair Center for the Arts performances and campus events, go to LoneStar.edu/Cyfair.