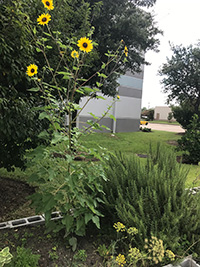 The Lone Star College-Fairbanks Center's vegetable and herb gardens are once again flourishing and ready for learning lab use and community outreach opportunities.
Brenda Chacon, Jo Anna Castorena and Geroya Richardson teamed up as part of LSC-CyFair's Empower U Leadership Academy to help revive LSC-Fairbanks Center's gardens as part of their spring campus project.
This team coordinated efforts with biology professor Kathy Hughes, who tends to the gardens with Susie Hsieh, biology professor and Carrol Merriman, part-time specialist in the Learning Commons.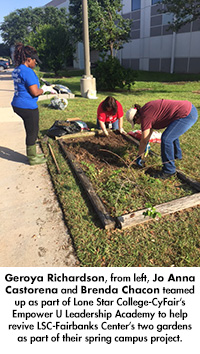 During the school year, the gardens become learning labs for LSC-Fairbanks Center faculty assignments. Hughes and Hsieh incorporate the gardens for examples in plant discussions and samples for lab work in Biology II classes, while ESOL classes go to the gardens to use as conversation topics to practice language skills.
Hughes said the gardens pique the interest of students and staff and visitors. And while the amount of the harvest fluctuates, she said a harvest of eggplant, greens, tomatoes and herbs was donated in July to the Mission of Yahweh food pantry.
Since established in 2008, the produce grown has included tomatoes, eggplants black-eyed peas, peppers, okra, squash, cauliflower, broccoli, collards, carrots, onions and beans as well as dill, oregano and chives.
Earlier in the year, rotted timbers were replaced, soaker hoses were installed to aid in water conservation and the Empower U team cleared weeds, mixed soil and planted pollinators in the gardens.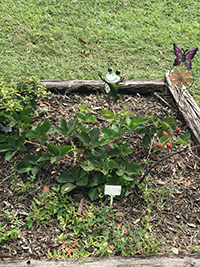 "We had no experience gardening, but we all pitched in and didn't mind getting our hands dirty or getting sweaty," said Chacon. "Seeing the difference we made was amazing. It felt really good to be a part of something that other people can see and enjoy."
Castorena said another part of their project included creating a gardening information pamphlet to hand out with seeds, making an informational poster to display and talking with interested visitors at the center's annual Earth Day event. The gardens, which provide an aesthetic view on the center grounds, were also spruced up in time for the center's 15-year anniversary celebration, she said.
"It feels good that we're giving back to the community," said Merriman, who's gardened all her life.
The LSC-Fairbanks Center's gardens are located at 14955 Northwest Freeway between the center and the parking garage.
For information or to volunteer to help maintain the garden, call Hughes at 832.782.5063.