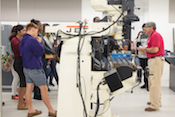 HOUSTON – Lone Star College- University Park hosted the Project GRAD closing ceremony Thursday, Aug. 3 with over 200 guests in attendance, including participating high school students and their family members. The ceremony celebrated the end of a successful Project GRAD Summer College Institute at LSC-University Park, in collaboration with Workforce Solutions, July 24 through Aug. 2.
LSC-University Park Vice President of Instruction Kathy Cecil Sanchez addressed attendees at the ceremony.
"LSC-University Park is proud to support Project GRAD in its mission to provide college access and career pathways for low-income students," she said. "Collaborations with nonprofits like this allow us to fully use our resources to benefit our community, and we thank everyone who made it possible."
Ninety-one local high school students from Klein Independent School District, Spring ISD, and Aldine ISD attended the institute and learned about college access and career pathways.
"The institute arms students with information that helps them understand that college and a successful career is within their reach," said Program Manager Dena Stuttz, who led the institute at LSC-University Park.
Students received college classroom instruction from LSC-University Park faculty members in the areas of Education, Machining, Computer Science, Hydraulics and Pneumatics, and Robotics and Mechatronics.
"Leading up to the program, we identified high demand careers and offered instruction to the students in those areas," Stuttz explained. "Our instructors would go through high-quality, in-class demonstrations which gave the students a taste of the college classroom experience."
Outside of the classroom, Workforce Solutions, an affiliate of The Gulf Coast Workforce Board, provided resources on career pathways and readiness.
Students also got a glimpse into the life of a college student as they toured the campus, checked out the latest technology in the Innovation Room and learned about the opportunities at University of Houston-Downtown's Northwest campus located at LSC-University Park.
"Project GRAD's mission is to prove that with the right support and preparation, college and a brighter future are possible for all, and that is what we are about at LSC-University Park," said Stuttz.