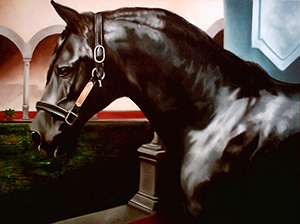 Lone Star College-CyFair's Bosque Gallery season opens Sept. 12 with an art exhibition that explores Renee Justiss' mystical connection between the spirit of the horse and her personal creativity.
The horse is a multi-faceted element in Justiss's artwork, which will be on display through Oct. 12 in her exhibition titled "An Un-stable Collection."
A professor of design at LSC-CyFair since 2009, Justiss received the name of "The Horse Painter" during her time at Marywood University in Pennsylvania simply due to her artwork, which primarily featured horses.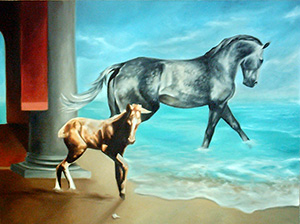 "The creatures possess a sublime and profound strength in their stillness that is somewhat disquieting, yet demanding of the viewer's gaze," said Bosque Gallery Director James Campbell.
"Why do you paint horses?" is the most common question Justiss receives. The answer to this paradoxical question is very simple, and also extremely complex, she said.
"Ever since I was a young child, I loved horses for their fascinating beauty," she said. "But underneath this superficial appreciation, are complex experiences of spirituality, personal growth, and psychological intrigue."
In addition to her expertise in equestrian-related artwork, Justiss has ridden horses since age 7 and has competed in various equestrian competitions, including show jumping and dressage.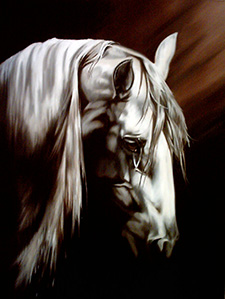 Visit with this talented artist, and owner of a 1,600-pound Shire/Quarter Horse mare named "Shasta," at the artist reception set from 5 p.m. to 7 p.m. Thursday, Sept. 14, which also includes a 6:30 p.m. artist talk.
The fall exhibition schedule also features the talent of LSC-CyFair Adjunct Professor Glenn Edwards in "Steel, Stones and Sticks" Oct. 24-Nov. 16 as well as the end-of-the-semester "Student Art Exhibit" Nov. 30-Dec. 12.
Gallery hours this fall are 10 a.m. – 3 p.m. Mondays through Thursdays.
The Bosque Gallery is located in the Center for the Arts building on the Barker Cypress campus at 9191 Barker Cypress.
For information, go to LoneStar.edu/bosquegallery or call 281.290.5273.