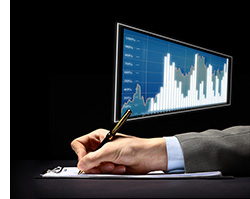 Don't miss the return of Lone Star College-CyFair's Business Success Seminars designed to help owners and their employees build successful businesses.
Invest one Wednesday a week Sept. 27 through Oct. 25 to maximize the success of your business. Topics include social media and digital marketing and advertising as well as Google Drive application, smartphone organization and web/flier design tips.
There is no fee to attend the Business Success Seminars held from 8 a.m. to 9:15 a.m. in the library, room 131 (*unless otherwise noted) at 9191 Barker Cypress.
Sept. 27 - Social Media Marketing
Siva Yenneti, president of ITVibes, gives an overview of must-do social media activities in order to enhance your bottom line.
Oct. 4 - Digital Advertising and Content Strategies
Sales and marketing professionals Mark Carruba and Stefanie Thomas walk you through ways to promote your brand and grow your business with effective Google and Facebook advertising, including content and SEO strategies.
Oct. 11 - Work Smarter, Not Harder, with Your Smartphone
Technology business consultant Michelle Guerra reveals easy techniques to organize your life and run your business using the smartphone and cloud computing.
Oct. 18 - Collaborating with Google Drive
Get in the driver's seat with online collaboration and sharing using the Google Drive application suite. Librarian Jane Stimpson provides an overview of Google Docs, Slides, Sheets, and Forms, with plenty of opportunity for hands-on practice with the apps. Bring your Gmail login. *Meet in the computer lab, LRNC 105.
Oct. 25 - Designing for Your Business
You may have just seven seconds to make a first impression. Do your websites, fliers, and images pass the test? Dorrie Scott provides tips and tricks for creating and designing simple, yet eye-catching visual content for your business. *Meet in the computer lab, LRNC 105.
Pre-registration is not required for this series. There will be a drawing for prizes.
Co-hosting this series are the Small Business Development Center at Lone Star College, the Lone Star College-CyFair Branch Library and the Cy-Fair Houston Chamber of Commerce.
For information, go to LoneStar.edu/library/business-seminars or call 832.482.1057 or 281.290.3214.