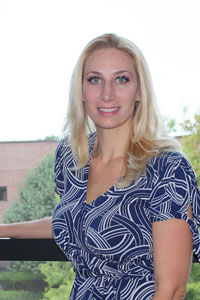 TOMBALL, Texas – LSC-Tomball English Professor Melissa Studdard has always liked surprises, but one of the biggest surprises of her life came when she was recently notified that she is one of a select few writers chosen from around the world as a 2018 Kathak Literary Award winner.
"I was surprised when I was notified about this award," said Studdard, who, as a result of being selected for the award, has also been invited to attend the Dhaka International Poets Summit January 30 through February 3, 2018, in Bangladesh.
"I was caught totally off guard, because I didn't apply for, or submit anything for this award," Studdard said. "Apparently, poems from my book, I Ate the Cosmos for Breakfast were noticed. This feels wonderful and I am so thrilled to know that people are reading my work. The head of the award committee is going to translate my poems into Bangla for a book, so I can't wait to see how the translations look."
Hosted by the Kathak, Bangladesh-Poetry Initiative, the event mainly focuses on bringing poets and poetry lovers together to define a path for the bilateral development and propagation of the poetic arts in Bangladesh and other countries of the world.
While in Bangladesh, Studdard will also participate in a series of readings and present at various festivals and universities in the area.
"I'm really excited and feel honored," said Studdard, who has penned several books over the past 10 years. In addition to I Ate the Cosmos for Breakfast, which consists of approximately 40 unique poems, she is also the author of the best-selling novel Six Weeks to Yehidah, its companion journal, My Yehidah, and The Tiferet Talk Interviews. Her awards include the Forward National Literature Award, the International Book Award, the Readers' Favorite Award, and two Pinnacle Book Achievement Awards.
Studdard's poetry, fiction, essays, reviews, and articles have appeared in dozens of journals and anthologies, including The Guardian, Psychology Today, Harvard Review, Southern Humanities Review, and Poets & Writers. In addition to writing, Melissa is the executive producer and host of VIDA Voices & Views for VIDA: Women in Literary Arts and an editor for American Microreviews and Interviews.
Lone Star College-Tomball is located at 30555 Tomball Parkway, at the intersection of SH 249 and Zion Road. For more information about the college, call 281.351.3300 or visit LoneStar.edu/Tomball.