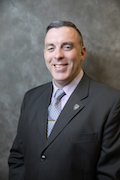 HOUSTON – As the fall 2017 semester begins, Lone Star College-University Park is pleased to name Jonathan Anderson as dean of arts and humanities.
Anderson plans to foster growth within the department with new programs and degree offerings, as well as community presence through events.
"Growth, community and student success are why we are here at LSC-University Park," said Anderson. "Our courses in the arts and humanities division offer an extreme amount of knowledge and skill to our students. Our goal is to continue upon the tradition of student success at LSC-University Park."
Anderson earned a bachelor's degree in music education and a bachelor's degree in music performance from Millikin University in Decatur, Illinois. He completed his master's degree in music and worked as a teaching assistant at Ball State University. Anderson pursued a doctorate of musical arts at the University of Kentucky, where he also served as a teaching assistant. Anderson will pursue a Ph.D. or Ed.D. in leadership or administration while at LSC-University Park.
Over the past 18 years, Anderson worked at Victoria College in Victoria, Texas, as a professor of music, department chair, and basketball coach. He received the Distinguished Teacher of the Year award twice, based on student evaluations.
"I enjoyed my time at Victoria College and was honored to receive this award, especially coming from students," said Anderson. "I hope I can make the same impact on students and faculty here at LSC-University Park."
Anderson noted that he will be available to students and faculty to help them reach their goals.
"I've had some amazing relationships during my career and I hope to do the same for others," said Anderson. "Just as I've been helped along the way in my career as a student and professional, I want to impart some of that information and help someone else out. My passion is for service and community."
Anderson has been married to his wife, Jennifer, for 14 years, and they have two children, Cadyn and Asher. Heavily influenced by his grandfather, a lifelong musician, Anderson continues the legacy with his own children. The family enjoys taking in local attractions and getting to know their new community. They plan to attend local music and arts events as often as possible in the area.
"Now that we're in a new city, we want to make sure we experience all that it has to offer," said Anderson. "Houston has a bustling fine arts scene and I hope we can continue to contribute to that at LSC-University Park."
Under Anderson's leadership, the arts and humanities division is offering a selection of events throughout the fall 2017 semester and planning for the spring semester. More information can be found here: www.LoneStar.edu/UP-Events.htm.
For more information:
Jessica Jordan
Communications Manager
281.290.1812 (O)
Jessica.Jordan@LoneStar.edu