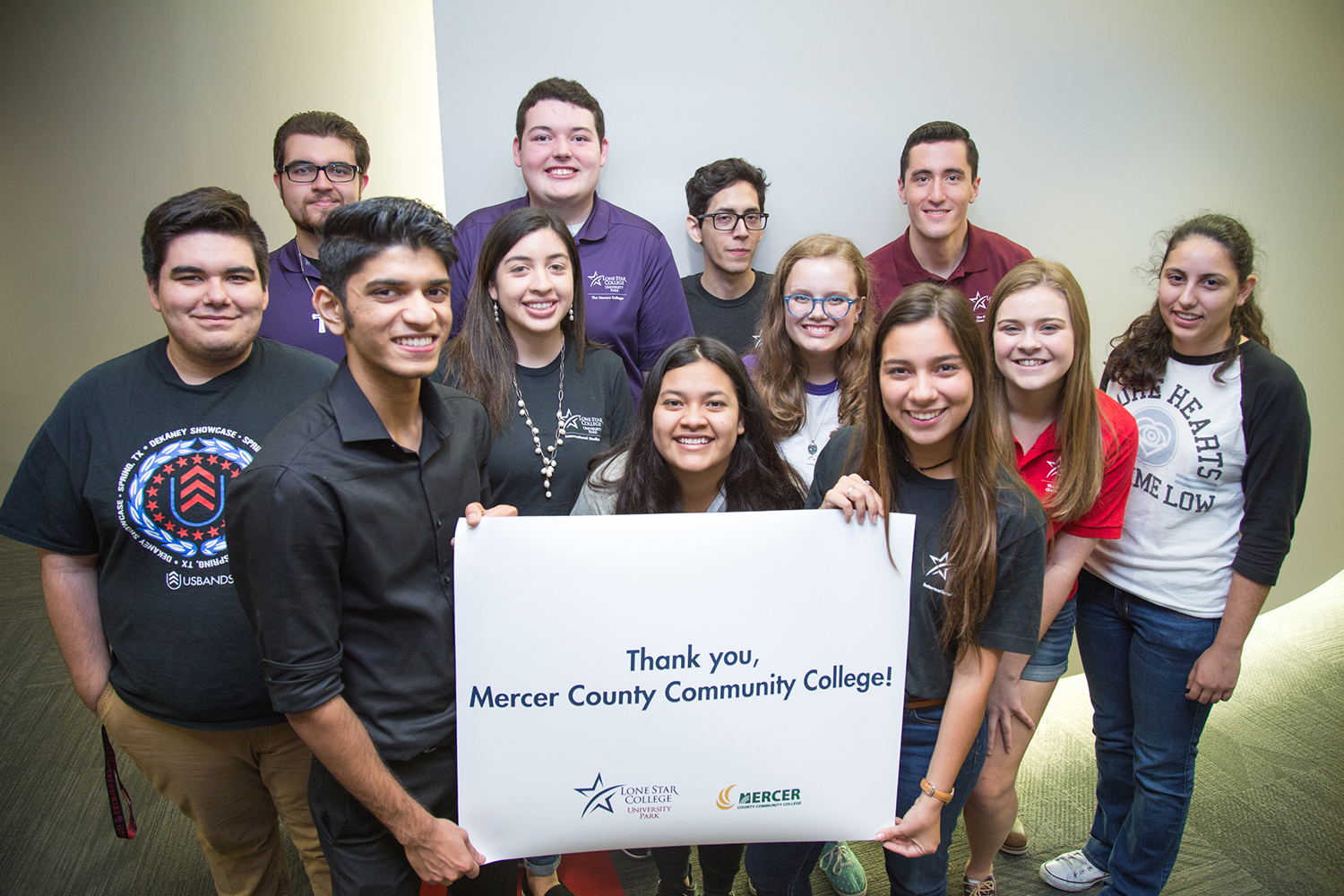 HOUSTON – Hurricane Harvey left a wide path of devastation, but it also showed how people can rally to help and be better together. After hearing about the damage left by the storm, Mercer County Community College in New Jersey came together to raise funds and aid those affected at Lone Star College-University Park.
"Lone Star College is very grateful to Mercer CCC, who took it upon themselves to offer assistance to our community," said Stephen C. Head, Ph.D., LSC chancellor. "I am so encouraged to see how they are thinking of others in times of great need."
Mercer CCC has two campuses located in West Windsor and Trenton, New Jersey.
Students, faculty, staff and friends of Mercer CCC raised $5,000 toward their Hurricane Harvey relief efforts. Mercer CCC matched the raised funds, bringing the total to $10,000. Funds collected were sent to the LSC Foundation for distribution to LSC-University Park students, faculty, and staff who needed financial assistance in order to return and continue their studies, resume teaching or provide essential administrative services. The money raised will also help replace lost books or clothing, or provide interim emergency funding for transportation or child care.
"Our heartfelt thanks go to the students, faculty, staff, and friends of Mercer CCC for their generosity during this recovery process," said Shah Ardalan, LSC-University Park president. "They are an example of what it means to be a community, even across the country. We are proud to be a part of a network of community colleges that work to support one another in difficult times."
"We have strength in our numbers and no gift is too small to make a difference," said Dr. Jianping Wang, MCCC president, who also praised the MCCC students, faculty and staff for their efforts.
"Being generous according to your means is also important to our success," said Wang. "Their participation represents the Mercer spirit and will be greatly appreciated by those it helps."
"I am extremely appreciative of Dr. Wang taking the time to personally call me and offer us her support and leadership," said Ardalan.
For more information:
Jessica Jordan
Communications Manager
281.290.1812 (O)
Jessica.Jordan@LoneStar.edu