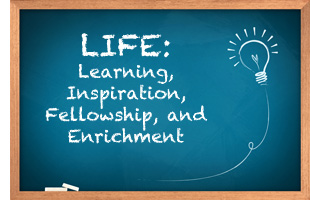 Lone Star College-CyFair's free weekly workshops help attendees gain clarity of mind, experience ancient Italy, get a taste of Vietnam and release their creativity.
The Learning, Inspiration, Friendship and Enrichment (L.I.F.E.) programs in November are free and held Wednesdays from 10 a.m. to 11 a.m. in the library (LRNC room 131 unless otherwise noted) at 9191 Barker Cypress. There will be no workshop Nov. 22 due to the Thanksgiving holiday.
November 1 — Mind Over Meds
Learn emotion empowerment by tapping into the mind-body connection. Tejal Shah Ravani, therapist and healer, guides us in practices that can help clear, heal and rejuvenate.

November 8 — Study Abroad Italy: Ancient Villas of Stabiae
Cheryl LeJune shares her experiences at the excavation site of the villas from the ancient town of Stabiae, a once popular gulf-side resort for ultra-wealthy Romans. With panoramic views of Mount Vesuvius less than 10 miles away, these villas, along with the towns of Pompeii and Herculaneum, were buried during the 79 AD eruption.

November 15 — Let the Pho Be With You
Our own circulation specialist Huyen Doan cooks up some healthful and delicious Vietnamese pho or soup with noodles.

November 29 — A Christmas Craft
Surprise! Surprise! Calling all artsy people to take a chance and try your hand at a holiday-themed project with Leah Stark.
Call the library at 281.290.3214 for L.I.F.E. program information or go online to LoneStar.edu.