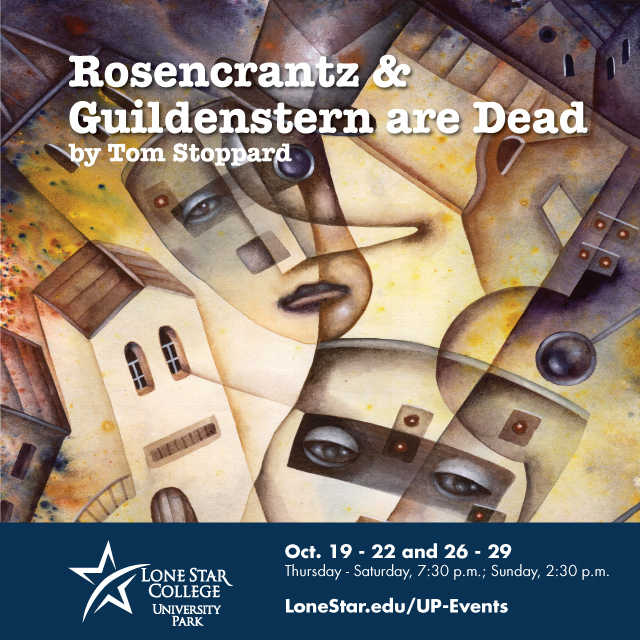 HOUSTON – Lone Star College-University Park's drama faculty and students are bringing Tom Stoppard's comedy "Rosencrantz & Guildenstern are Dead" to the Black Box Theatre stage, beginning Thursday, Oct. 19.
The comedy is a retelling of Shakespeare's tragedy, "Hamlet," with his two friends, Rosencrantz and Guildenstern, as central characters.
"It's a delightful comedy that is willing to ask difficult questions of its audience," said Director William Grayson, associate professor of drama. "It's a challenging play to work on with its technical demands, academic dialogue, and slapstick comedy, but it offers a truly unique viewing experience for the audience."
Theatregoers can enjoy the show Oct. 19 – 22 and Oct. 26 – 29 in LSC-University Park's Black Box Theatre. Both evening and matinee performances are available. Tickets are $5 for students and $10 for general admission. Tickets are available for purchase at LoneStar.edu/UP-Events.
Cast members are Rosencrantz: Marissa Johnston; Guildenstern: Sarah Garner; The Player: Kylia Harris; Alfred/Horatio: Gio Cardinale; Hamlet: Kevin Espinoza; Ophelia: Julie Urbano; Claudius: Abed Ahmed; Gertrude: N'Dia Walter; Polonius: Christian Lloyd; Stage Manager: Alyssa Armstrong; Costume Design: Sarah Forsythe; and Sound Design: Gio Cardinale.
The Black Box Theatre will host additional performances open to the public throughout the fall semester, including a performance from the Texas New Music Ensemble Nov. 3, A Christmas Carol Radio Play Nov. 16-18, Fall Student Art Show Nov. 29-30, Transitory Sound and Movement Collective Dec. 5, and the LSC-University Park Concert Choir Dec. 7.