A year of preparation paid off when Lone Star College-CyFair's Criminal Justice (CJ) Club won the Crime Scene Interpretation (CSI) Competition at the Southwestern Association of Criminal Justice (SWACJ) Annual Meeting.
"We are very proud of the conference win and all of the accomplishments our Criminal Justice Club members have achieved in just two short years," said LSC-CyFair President Dr. Seelpa Keshvala. "Professor Bourgeois is committed to our students and in ensuring their success. Her passion for criminal justice is evident through the various campus and community learning opportunities she provides for students beyond the classroom, and we so appreciate her leadership here at LSC-CyFair."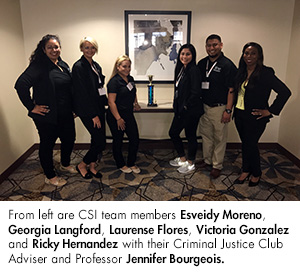 The winning CSI team members, including Esveidy Moreno, Victoria Gonzalez, Laurense Flores, Georgia Langford and Ricky Hernandez, were responsible for photographing, sketching, documenting and processing a crime scene. They were judged on professionalism, accuracy of processing and interpretation, and compliance with recognized standards and protocols.
"Our Criminal Justice Club students never cease to amaze me," said Professor Jennifer Bourgeois and CJ club co-adviser. "These first-time SWAJC conference participants have diligently studied and prepared since the summer of 2016, so there were no shortage of tears, theirs and mine, when LSC-CyFair was awarded first place."
Out-scoring four-year universities in this competition not only verifies the scholarly credentials of LSC-CyFair students, but places the college's Criminal Justice program among those of primary choice in this field of study, said Bourgeois.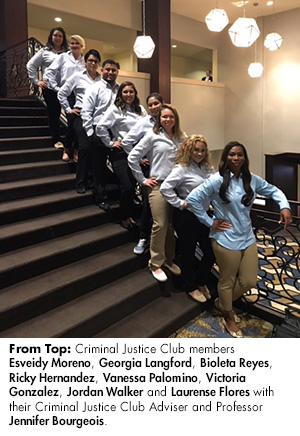 In addition to the CSI competition, Langford participated in the Undergraduate Paper Competition, while Vanessa Palomino, Bioleta Reyes, Jordan Walker and Hernandez participated in the Criminal Justice Quiz Bowl.
"What I enjoyed most about SWACJ was getting to be a part of the quiz bowl competition," said Walker, CJ Club President. "It was also interesting going to the different panels, and getting new information on different areas of criminal justice."
Also at the meeting, Bourgeois and CJ Club co-adviser Professor Jason Fernandez participated in a roundtable, titled "Collaboration and Creativity in the Criminal Justice Classroom: Working with Other Disciplines," to discuss LSC-CyFair's Learning Signature, and the importance of interdisciplinary collaborations through Learning Communities and Learning Networks.
LSC-CyFair efforts to raise awareness about the criminal justice field have included hosting Whodunnit Mock Crime Scene, participating in Clothesline Project for Domestic Violence Awareness Month and Child Advocate Superhero 5k events, as well as visiting correctional facilities.
Such campus and community involvement earned LSC-CyFair's Criminal Justice Department the National Criminal Justice Month Community Engagement and Education Awards at the Academy of Criminal Justice Sciences Annual Meeting earlier this year.
"My primary commitment to the criminal justice field is to continue to learn, teach and educate others, which is why I am passionate about taking students to professional conferences such as SWACJ," she said.
For information on LSC-CyFair's Criminal Justice Department or CJ Club, email Bourgeois at Jennifer.W.Bourgeois@LoneStar.edu.