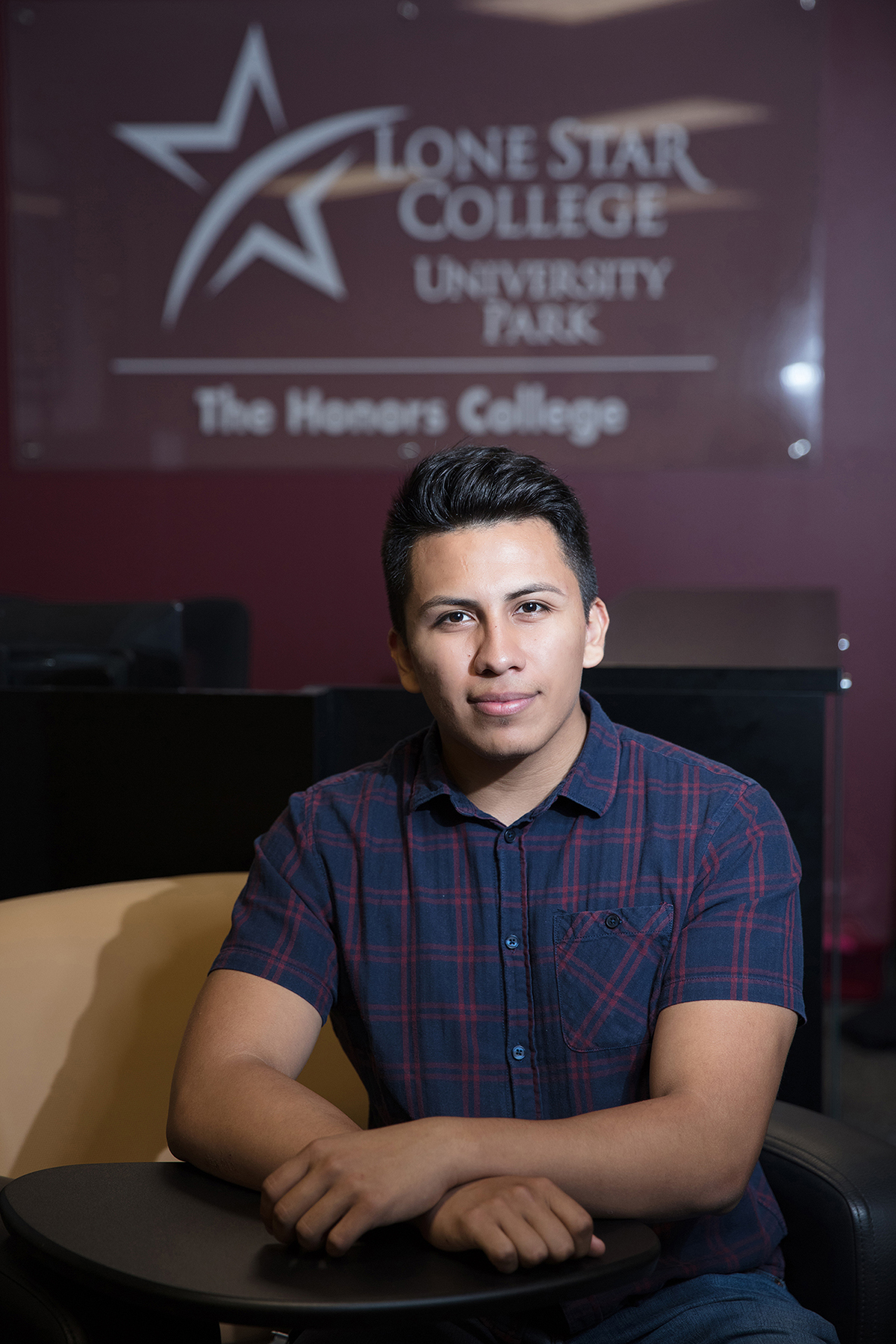 HOUSTON – When Jesus Patino enrolled at Lone Star College-University Park in 2015, he was disillusioned with the direction his life seemed to be taking.
"Graduating from high school, I didn't know what I wanted to do," he said. "I thought, let's get the basics out of the way before I start committing to an actual program at a university."
After two years as a Chancellor's Fellow, Patino earned an Honors Associates of Arts degree from LSC-University Park in spring 2017, with distinctions in leadership and international studies.
"In the Honors College, we had a strong focus on undergraduate research, and that, to me, really awoke something," Patino said. "The Honors College helped me figure out who it is that I wanted to be – my passions, my goals, my dreams – and set me on a clear path into my future."
That path led to the University of Texas at Austin, where Patino transferred this fall, entering as a junior and majoring in international relations and global studies, with specialization in science and technology.
Patino will continue his college education at UT as a Terry Transfer Scholar, an award that will fund his full tuition, books and rent in Austin. The Terry Foundation, the largest private scholarship program in the state, provides students who exemplify four pillars – scholarship, leadership, service and community – with access to higher education at 13 public universities in Texas.
"LSC-University Park is honored to support the educational pursuits of students such as Jesus," said LSC-University Park President Shah Ardalan. "As the community's college, we're passionate about serving all students and Jesus' accomplishments are a testament to our mission of providing access to quality, affordable education that leads to opportunity."
Transferring from LSC-University Park to UT at Austin on "essentially a full ride" is an exhilarating accomplishment for Patino, who did not get into UT at Austin straight out of Klein Forest High School two years ago.
After considering other college acceptances and options for working fulltime, he decided to take foundational courses in chemistry, physics and calculus as an engineering major at LSC-University Park.
"I applied to the Honors College mainly just as, oh, look, they're offering free money!" Patino said of the Chancellor's Fellowship, which covered his tuition and books at LSC, in addition to providing a stipend each semester. "I didn't imagine this commitment that I would have to engage in."
Patino credits the Honors College at LSC-University Park – "a college within a college" – with opening doors to interaction, involvement and immersion on campus and beyond.
"I really liked it so much that I just offered more," he said. "I went back to Klein Forest two or three times to talk to students about these amazing opportunities."
Through the Honors College, Patino attended the Hispanic Association of Colleges and Universities conference in San Antonio, where he spoke with an officer from the U.S. Department of State.
As someone who relates success to happiness, Patino knew he had found his true calling when he learned about working in the State department and thought, "I can see myself doing that."
Study-abroad trips to Italy and Germany further broadened his horizons career-wise, while class projects back home pushed Patino to exceed his own expectations intellectually.
"My verbal skills, my presentation skills, my written skills increased tremendously because of the Honors College," he said, describing the research work as "semester-long projects, not your typical write-an-essay-on-XYZ," for which students had to formulate their own ideas.
For one assignment, Patino analyzed media bias in election coverage by "applying a linguistics theory of pragmatics comparing FOX News and Young Turks." To his amazement, that paper garnered him an invitation to the National Conference of Undergraduate Research in Memphis, the first for a student from LSC-University Park.
"I was able to present research that I formulated in English 1302 at a national conference," Patino said. "I am a sophomore at a community college! This project is from my freshman year!"
For a student who previously had felt that research and conferences were "out of his league," this achievement was a revelation.
"It really helped me realize that I am capable of developing a high caliber of work at such an early stage of my academic career— and at a community college," he said.
Brian Kyser, campus director of the Honors College at LSC-University Park, said Patino thrived scholastically and socially at Lone Star, becoming a "foundational figure" for the honors program.
"Jesus recharged his hope for his education here," Kyser said. "With encouragement, he grew and gained confidence, and he was able to fulfill his potential."
Formerly "very shy," Patino joined business and international studies groups at LSC-University Park and served as president of the Honors College student association in fall 2016. He also participated in the Model United Nations Conference in New York, where a "mega-delegation" from LSC-University Park, LSC-North Harris and LSC-Cy-Fair represented the Netherlands.
"Jesus is energetic, enthusiastic, charismatic, respected as a leader," Kyser said. "It's very humbling to see students like him pouring themselves back into the college."
Although "every student has their own different way of succeeding," engaging in extra-curricular activities on campus allowed Patino to "destress" while exploring his interests.
"I have friends who just come to school, and then that's it," he said. "I'm involved in all these things, and I'm actually immersing myself in all these clubs and organizations. That's giving me a different experience than what [they're] getting."
Patino named Kyser and professors Kristie Musgrove and Amy Hirsch as "very, very impactful" and "three teachers here who changed my life."
"The institution as a whole has such tremendous faculty," Patino said. "Dedicated and motivated teachers who genuinely want to see you succeed and would do anything to help their students."
"In the Honors College, we had a very close community, and I got to know some very, very amazing people," he added. "I want to find that community [at UT]. It is a much larger school, but I hope I can find that one-on-one connection with a teacher like I had at LSC-University Park."
No longer uncertain about college, Patino now sees graduate school in his future.
"LSC-University Park really helped me figure out what I wanted to do with my life," he said. "I would recommend this school, this institution to anybody, whether you have your life figured out or not."
Patino summed up his advice for students starting on their own career paths, wherever they may lead:
"Just go to LSC-University Park first."
Media Contacts:
Jessica Jordan
Communications Manager
281.290.1812 (O)
Jessica.Jordan@LoneStar.edu