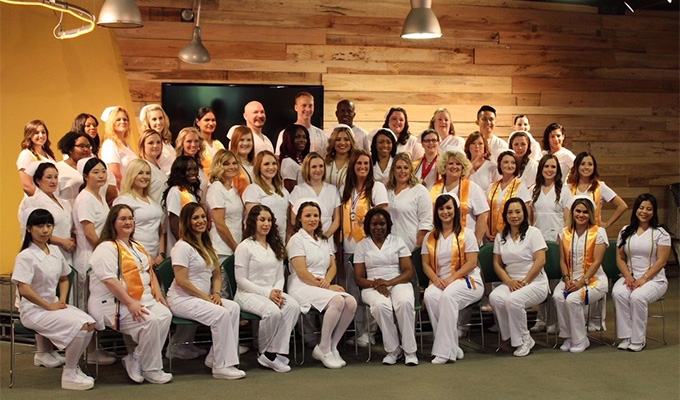 The nursing program at Lone Star College-Montgomery has reached a new milestone of excellence. Graduates from the class of 2017 had a 100% first-time pass rate on the National Council Licensure Examination for Registered Nurses (NCLEX-RN ®).
"We are very proud of our LSC-Montgomery nursing graduates," said Dr. Rebecca Riley, President at LSC-Montgomery. "Close collaboration between students and faculty, outstanding mentoring, and excellent clinical opportunities prepare our graduates to serve as health care professionals. Health occupations are growing here and in surrounding counties. These graduates will have endless opportunities ahead of them in the medical field. We are excited to see where they will make a difference in the future."
The NCLEX-RN® is the national standardized examination required for nurses to receive a license to practice. Candidates are presented with a range of questions from about 70 to a maximum of 265 that they must complete in six hours. The 2017 national average of first-time pass rates was about 89.6%
LSC-Montgomery Associate Degree Nursing (ADN) graduate Tiffany Walker was relieved and excited when she found out she had passed.
"It was a proud moment for me and everyone else I talked to," said Walker. "The class was like a family. We all helped each other and made sure that no one was left behind. It was such an incredible feeling to know that these people you have gotten so close with are now going to be able to continue on to their journey as a registered nurse."
Walker now works as an ICU nurse at Conroe Regional Medical Center. Nursing school at LSC-Montgomery made sense for her and her family.
"Being a mom and a wife, the ADN program at LSC-Montgomery was the most convenient," said Walker. "It was cost-effective. I did not want to have to take out loans. As a family we were able to handle tuition at LSC-Montgomery without any help."
The 11-person nursing faculty works tirelessly to make sure the class content is appropriate.
"This first time pass rate is directly attributable to the LSC-Montgomery nursing faculty," said Julie Kendall, MSN, RN, CNE, and Director of Nursing Programs at LSC-Montgomery. "They have developed a curriculum that is rigorous and informed by our clinical partners: Memorial Hermann The Woodlands Medical Center, Conroe Regional Medical Center and CHI St. Luke's Health-The Woodlands Hospital. We know our graduates will positively influence the health of our community through their work."
"My favorite example of the faculty dedication at LSC-Montgomery happened when we had a renal lecture," said Walker. "I wanted to dress up as a kidney and I was prepared to make the costume myself, but lo and behold one of our professors Ms. Carol Girocco pulled one from under her desk. It did not even surprise me. It speaks volumes about what kind of professor she is. She is fun and quirky and does amazing things that help you remember the content. I dressed up in that costume and danced while a fellow student sang a kidney song on her ukulele. I will never forget that lesson."
The next round of applications for the AND (RN) program will be accepted from Jan. 22, 2018 – March 21, 2018. The approximate cost for in-district students is $4,500. It is strongly recommended that prospective students attend an information session to learn more about the profession and requirements of each of the LSC-Montgomery nursing programs. There are two left this year:
Thursday, Nov. 9 at 2 p.m. in B-102
Tuesday. Dec. 5 at noon in B-102
The LSC-Montgomery ADN (RN) Program is very competitive. Generally the staff receives twice as many applicants as open spots.
Lone Star College is also developing proposals to offer a Bachelor of Science in nursing after Texas Governor Greg Abbott signed a bill allowing certain public junior colleges to offer a bachelor of science in nursing.
Lone Star College offers high-quality, low-cost academic transfer and career training education to 99,000 students each semester. LSC is training tomorrow's workforce today and redefining the community college experience to support student success. Stephen C. Head, Ph.D., serves as chancellor of LSC, the largest institution of higher education in the Houston area with an annual economic impact of $3.1 billion. LSC consists of six colleges, eight centers, two university centers, Lone Star Corporate College and LSC-Online. To learn more, visit LoneStar.edu.