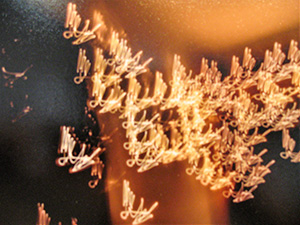 The artistic and musical talents of Lone Star College-Cy-Fair students will be showcased in "An Evening of Student Art and Music" Nov. 30.
Featuring the original work of LSC-CyFair visual arts students, this event kicks off the Student Art Exhibition with an artists' reception and awards ceremony as well as an LSC-CyFair String Ensemble performance in the Center for the Arts lobby.
"This is a special evening you won't want to miss," said Bosque Gallery Director James Campbell. "Student artists will be available to discuss their creative pieces made in response to Hurricane Harvey before we announce this semester's award winners. Then we will be entertained by our talented student musicians under Alan Johnson's direction."

This end-of-the-semester student art exhibition, which includes a multi-media representation of drawings, two-dimensional design works, ceramics, photography and painting, will be on display through Dec. 12.
Meet the artists at the 5 p.m. Thursday opening reception. The awards ceremony will begin at 6:30 p.m. followed with the 7 p.m. instrumental performance.
Gallery hours for this exhibition are 10 a.m. – 3 p.m. Monday through Friday.
The Bosque Gallery is located in the Center for the Arts building on the Barker Cypress campus at 9191 Barker Cypress.
For information on LSC-CyFair's art and music programs, call 281.290.5273.