Lone Star College-CyFair and LSC-Montgomery co-hosted an afternoon of professional development with student presentations and a competition in celebration of National Radiologic Technology Week® (NRTW) Nov. 5 – 11.
Trae Windham, who began in LSC-CyFair's Medical Radiologic Technology (MRT) Program and graduated from LSC-Montgomery's MRT Program, was the guest speaker for the 2017 Joint MRT Student Seminar.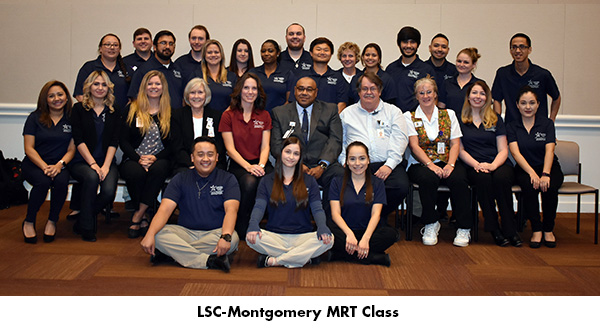 An inspector for the Texas Department of State Health Services' (DSHS) Radiation Control Program surveillance section, Windham was recently appointed to a hurricane strike team tasked with assessing the recovery status of medical facilities along the Texas coast, hardest hit by the effects of Hurricane Harvey.
"Trae spoke about his career progression and encouraged our students to be professional and ready for new challenges and opportunities," said Lawrence Norris, LSC-CyFair's MRT Program Director. "He also reminded our students that he started out right where they were sitting and dreamed of his career in the medical radiology field."
Now Windham holds multiple certifications and memberships at some of the nation's most distinguished agencies, such as the Counter Terrorism Operations Support System (CTOS), the Council on Licensure, Enforcement & Regulation, FEMA National Incident Management System and the Food and Drug Administration (FDA) to name a few.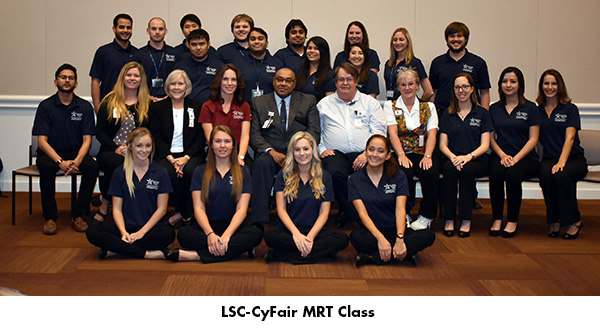 Following Windham's keynote talk, four MRT students gave professional presentations including LSC-CyFair's Khang Nguyen – "Tying up Loose Ends by Sweetening the Tea" and Taylor Carter – "Cath Lab Somatic Effects" and LSC-Montgomery's Rachel Shearn – "Professional Development and Lifelong Learning in the Medical Imaging Profession" and Juan Flores – "Fukushima Daiichi Nuclear Disaster."
The Radiology Student Quiz Bees (20 radiology course questions) followed. The winners were David Vu and Jason McClelland, first-year and second-year LSC-CyFair students and Molly O'Dowd and Brent Cooper, first-year and second-year LSC-Montgomery students.
The day ended with Norris and LSC-Montgomery MRT Program Director Dr. Francis Ozor giving closing remarks. Norris said part of celebrating NRTW is to recognize the vital work of Radiologic Technicians whose primary goal is to provide patients with safe medical imaging examinations and radiation therapy treatments. Dr. Ozor echoed the importance of continuing education in the MRT profession.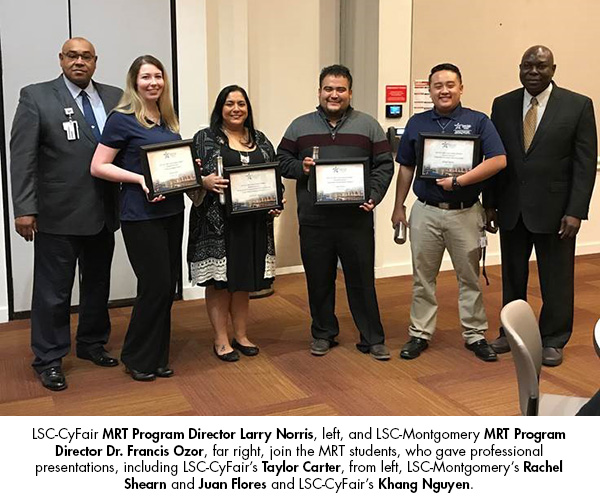 The LSC-CyFair and LSC-Montgomery MRT Programs are designed to effectively prepare students for entry-level positions with the knowledge and skills to perform radiographic examinations (x-rays), provide patient care, and assist radiologists with diagnostic procedures.
For information on LSC-CyFair and LSC-Montgomery MRT Programs, email Lawrence.E.Norris@LoneStar.edu and Francis.C.Ozor@LoneStar.edu, respectively.
Registration for LSC-CyFair's spring semester is under way. For information, go to LoneStar.edu/registration.