Lone Star College-CyFair drama students perform "An Evening of Molière Farce" with a contemporary spin Dec. 7-10.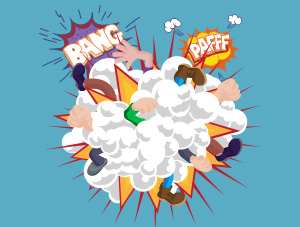 "Our talented LSC-CyFair cast is updating a collection of four of Molière's shorter plays with more contemporary references and jokes," said Deborah Anderson, director and LSC-CyFair adjunct drama instructor. "Join us for entertaining stories about material girls, mistaken identity, jealousy and misunderstandings."
The four Molière's plays are: "The Precious Ridiculous" – two girls who care more about fashion than substance, "The Flying Doctor" – a servant masquerades as a Doctor, "The Jealousy of Barboubille" – a jealous man tries to find out if his wife is unfaithful, and "Sganerelle" - a farce of misunderstanding and mistaken identity, that grows more tangled with every passing scene.
The performances are set for 7:30 p.m. Thursday – Saturday with 3 p.m. Sunday matinee. All tickets are $10 and will be held in the Black Box Theatre located in the Center for the Arts building at 9191 Barker Cypress.
For information and tickets, visit LoneStar.edu/BoxOffice or call 281.290.5201.