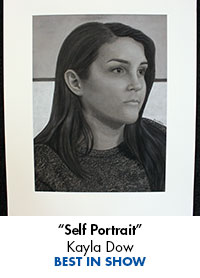 Come see the talent showcased in Lone Star College-CyFair's Fall 2018 Student Art Exhibition including a multi-media representation of drawings, two-dimensional design works, ceramics, photography and painting.
The end-of-the-semester exhibition, featuring some of the best work of Lone Star College-CyFair's talented students, will be on display through Dec. 12.
"This semi-annual exhibition features the original work LSC-CyFair visual art students have completed in their fall classes exhibition; however, many of the creative pieces in this semester's show were done in response to Hurricane Harvey," said Bosque Gallery Director James Campbell.
Awards in each category were given at the opening reception. This year's Best of Show was Kayla Dow's "Self Portrait." First-place winners include Annie Beam's "Still Life Skull" drawing, Victoria Armenta's "Frida's Multi-Color" design, Jasmin Aleman's "Still" painting, Lane G. Devereux's "Shy Cherub" ceramic art and Millard Brogan's "Elephants" photo.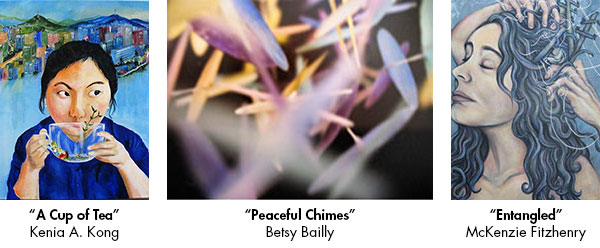 Other student winners and honorable mentions were Ariana Echerarria, Sergio Guanajunto, Jr., Nikki Garcia Erin Kelly, Damini Varu, Rose Dobson, Steven Rebar, Alix Fullerton, Chelsea Sneed, Miranda McAdams, Susana Morales, Chanell Escobar, Karla Escalante and Reyna Balandran.
Gallery hours for this exhibition are 10 a.m. – 3 p.m. Monday through Friday.
The Bosque Gallery is located in the Center for the Arts building on the Barker Cypress campus at 9191 Barker Cypress.
For information, go to LoneStar.edu/bosquegallery or call 281.290.5273