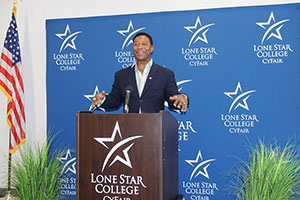 Lone Star College-CyFair students learned about leadership and being competitive in the global marketplace with longtime FOX sports analyst and former Super Bowl Champion Spencer Tillman, when the college recently served as host site for this year's Lombardi Awards live broadcast.
"In addition to having the prestigious Lombardi Awards event on our campus, our students were fortunate to have experienced master classes led by two compelling figures from the sports world, where they learned how to surmount obstacles to advance their careers," said LSC-CyFair President Dr. Seelpa Keshvala.
In the master class "The Lombardi Way: A Blueprint for Leading From Where you Are," Tillman advised that "the mindset to be successful in the 21st century is to see opportunity where others don't."
LSC-CyFair Computer Programming student Ashley Castro said she found Tillman's talk inspirational and relatable.
"(His message) enhances my belief that if I keep pushing forward, keep being positive, even when things get really hard, I know it will get better, if I don't give up."
Students also joined Tillman in a conversation with female sportscasting pioneer Lesley Visser in a master class titled "Breaking Barriers."
Visser, voted to Sports Broadcasting, Sports Writers and Radio and TV Hall of Fames, is the first woman NFL analyst on TV, the first woman recipient of the Pete Rozelle Radio-Television Award by the Pro Football Hall of Fame and first and only woman to present the championship Lombardi Trophy at the Super Bowl.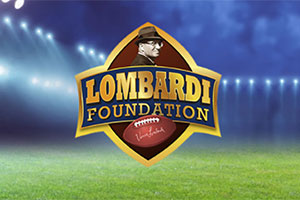 She shared that her strength and confidence to make it this male-dominated industry began with her mother's support in a time when jobs as a sports analyst didn't exist for women. At age 11, she told her mom she wanted to be a sportscaster, who said "Great! Sometimes you have to cross when it says 'don't walk.'" Visser used that quote in the title of her recently authored memoir about breaking barriers.
LSC-CyFair non-traditional nursing student Peter Chaney said, "What really struck me is how Spencer and Lesley overcame adversity in their careers. I am older in many cases than professors I have and learning to learn again has been a big challenge. I find strength in their message of persistence."
For information on LSC-CyFair programs and events, go to LoneStar.edu/Cyfair.