Lone Star College-CyFair features photography artist Gary Watson as part of the Houston Fotofest 2018 Biennial exhibition on display this spring.
LSC-CyFair's Bosque Gallery is one of the participating spaces in this critically acclaimed international contemporary photography exhibition.
From the theater of public demonstrations to personal declarations of self-identify, Watson's spring exhibition "Be Yourself – Speak Your Mind: The Art of Self-Expression" looks at the art of activism and the activism of art.
Watson's work will be on display March 6 through April 12 in the Center for the Arts building on the LSC-CyFair campus at 9191 Barker Cypress.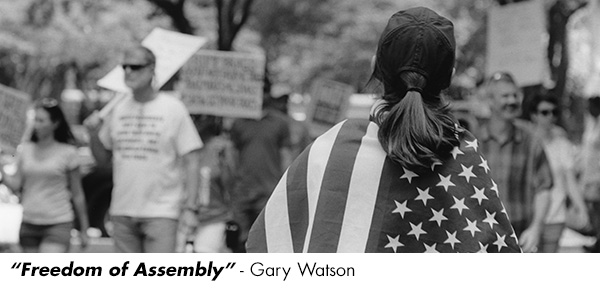 This Houston artist says he does not know why he takes pictures, only that he must," said James Campbell, LSC-CyFair Gallery Coordinator. "Watson's ideas become performances played out for public consumption, proclaiming 'This is who I am, this is what I believe.'"
In this exhibition, diverse styles of documentary, allegorical and personal photography create both observational and declarative statements to provide a catalyst for emotional responses, thoughtful discussion and positive action.
Watson's photos address mature themes such as emotional and physical aspects of aging, freedom of assembly and the story of a transgender woman.
Come meet Watson at a March 22 reception from 5 p.m. – 7 p.m. that includes an artist talk at 6:30 p.m. and features musical interludes with LSC-CyFair Professor Brian Herrington's students.
Another opportunity to visit with this artist will be at the Tea + Art + Talk event from 1:30 p.m. – 2:15 p.m. April 3.
For gallery hours and information, visit LoneStar.edu/bosquegallery or call 281.290.5273.