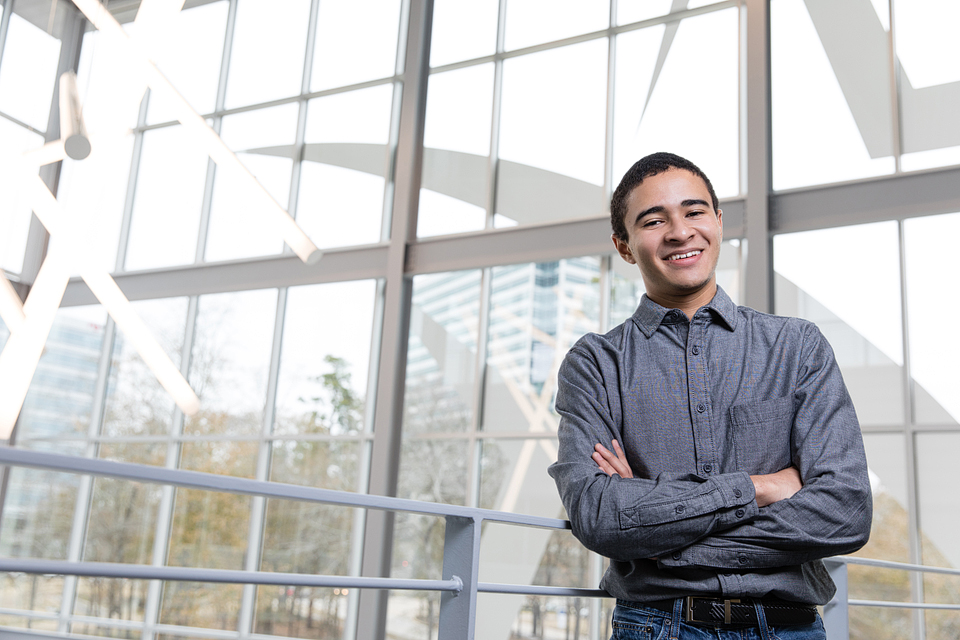 HOUSTON – For Lone Star College-University Park sophomore Emil Gillett, a trip to NASA's Johnson Space Center (JSC) in late 2017 offered not only an unforgettable glimpse at NASA's achievements, but also a major boost to his own resume.
Through NASA's Community College Aerospace Scholars (NCCAS) program, Gillett was invited to NASA's facilities for tours and a team project competition mentored by NASA engineers. NCCAS gives science, technology, engineering and mathematics (STEM) students from community colleges an authentic NASA experience and encourages them to pursue a NASA-related field.
Gillett joined seven students from community colleges across the U.S. for the NCCAS program at JSC. Gillett participated in a rover-building workshop that gave him firsthand knowledge of life at NASA and an up-close look at a future with the agency.
"We had to design a rover that would go out into the Martian environment and collect rock and soil samples," Gillett said. "They gave us parts, motors, gadgets – sort of like a LEGO kit – and lists to know how much each part cost and how much satellite images cost."
Gillett, who is majoring in biology at LSC-University Park, took one giant leap toward his dream of a STEM career with one small step when he was accepted into the NCCAS program.
Guy Harwell, Gillett's mathematics professor at LSC-University Park, recommended Gillett to NCCAS. Harwell noted that many participants in NASA's college programs go on to careers with NASA.
"Emil is an exceptional student, and he really stood out as someone who would do extremely well with this kind of opportunity," Harwell said. "He works very hard at his studies and seems to take to mathematics quite quickly. I was very happy that Emil received this excellent opportunity to work with NCCAS."
"At LSC-University Park, student success is paramount, and we are honored to support the educational and career goals of our students," said Dr. Shah Ardalan, LSC-University Pak president. "Our passionate faculty and staff eagerly work toward providing access to quality, affordable education that leads to opportunities for our diverse student community. Empowering students like Emil in the realization of their dreams is why we exist as a college, and we are proud to do so everyday."
To become an Aerospace Scholar, Gillett first had to meet the NCCAS eligibility requirements and submit his application, a transcript and a recommendation letter. Upon acceptance to the next phase of the process, he completed a five-week online summer session, consisting of interactive web-based activities, webinars and a unique NASA assignment involving design software.
Candidates who successfully completed the online component were then considered for an invitation to a hands-on learning experience at a NASA center. A month before the fall semester began, Gillett received notification that NCCAS chose him to go to Johnson Space Center in late 2017. NASA covered expenses for travel, lodging, meals and project supplies for the visit, which stayed on schedule in the wake of Hurricane Harvey.
The experience provided access to professional networking opportunities at NASA, where the team advisers created profiles for students applying for internships or jobs in the future. NASA's research on DNA sequencing and the effect of microgravity on the human body are some of the areas that appeal to Gillett.
"I don't feel that NASA is only focused on aerospace technology," Gillett said. "There are many opportunities at NASA for a range of interests."
Gillett was born in Texas, but moved to Belize with his family when he was 6 years old. After finishing high school and enrolling at St. John's Junior College in Belize, Gillett moved back to the Houston area and began taking classes at LSC-University Park in spring 2017.
"I decided to go to LSC-University Park because it is more cost effective than going straight to a four-year university, and the college has great classes and professors," said Gillett, who is secretary of the Health Occupations Students of America (HOSA) club and a Student Ambassador for LSC-University Park.
Gillett is on track to finish his coursework at LSC-University Park this year. He hopes to transfer to University of Houston to earn a bachelor's degree in biology before pursuing graduate work in medicine.
For more information:
UPCollegeRelation@LoneStar.edu