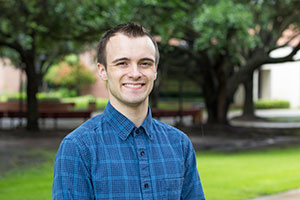 TOMBALL, TX – Nothing has ever come easy for LSC-Tomball graduate Matthew Ramsdal and overcoming obstacles is something he says he has become accustom to. In fact, when Matthew Ramsdal enrolled into LSC-Tomball three years ago, he became the first in his family to attend college, and had to prove that he could accomplish something no one else in his family had ever done.
His commitment paid off in a big way in April 2017 when he was awarded the Jack Kent Cooke Foundation Undergraduate Transfer Scholarship, worth up to $40,000 a year, to complete a bachelor's degree at a four-year college or university.
But this past August, Ramsdal says he had to prove himself all over again.
"It was great being awarded the scholarship because it opened up possibilities for me that previously weren't there, said Ramsdal. "I graduated from Lone Star College-Tomball in May and transferred to the University of Houston majoring in computer information systems."
Ramsdal said there were many unknowns on the path toward a four-year degree, but he made a commitment to himself to work hard and to make his family proud.
"I made all A's in my first semester of classes," Ramsdal revealed. "I took five classes. I'm finally able to get into my core computer information system classes and so far I'm really enjoying it. It's not easy, but I feel that Lone Star College-Tomball really prepared me well and the network and support group that I've formed with other students who received the Jack Kent Cooke Foundation scholarship really helps to keep me motivated and working hard to overcome the obstacles presented to me as a student."
Each year, the Cooke Foundation selects outstanding community college students from around the nation from a competitive pool of nearly 3,000 applicants to receive Undergraduate Transfer Scholarships. All of the Cooke Undergraduate Transfer Scholars have financial need and strong records of academic achievement as shown by grades, leadership skills, awards, extraordinary service to others and perseverance in the face of adversity.
The Cooke Foundation works to fulfill Cooke's vision of helping high achieving, low-income students by educating the public, awarding prizes, providing grants to other organizations with similar missions, and conducting high-visibility research. Cooke, who overcame similar obstacles to those whom the scholarship benefits, was a Canadian entrepreneur and former owner of the Washington Redskins, the Los Angeles Lakers, and the Los Angeles Kings.
"I've faced a lot of adversity," Ramsdal stressed. "During my first year of school, I almost quit, but I'm so glad that I kept going."
Ramsdal credits the Lone Star College Honors College Chancellor's Fellows program for his success at the University of Houston and his determination to push through the tough times.
"The Honors College is really what saved me," Ramsdal said of The Honors College Chancellor's Fellows program, which has a required course curriculum, inside and outside the classroom, with extensive Honors College service projects and events. "My family has always been pro college, but those in my family just haven't been able to go to college, so to be able to overcome that obstacle of having the opportunity to go to college is huge for me and my family. I've been putting in the same grind that I did at Lone Star and I feel that it was the experience I gained from being disciplined at Lone Star that has helped me experience success at the University of Houston."
Lone Star College-Tomball is located at 30555 Tomball Parkway, at the intersection of SH 249 and Zion Road. For more information about the college, call 281.351.3300 or visit LoneStar.edu/Tomball.
[Digital Photo Included: Cutline – LSC-Tomball graduate Matthew Ramsdal continues to shine at the University of Houston.]
-30-
Known for its leadership, innovation and steadfast commitment to student success, Lone Star College provides high-quality academic transfer and workforce education/career training programs to more than 83,000 credit students each semester, and a total enrollment of 95,000 students. LSC is training tomorrow's workforce today and redefining the community college experience to promote student success and economic prosperity. Stephen C. Head, Ph.D., is the chancellor of LSC, the largest institution of higher education in the Houston area, which consists of six colleges, eight centers, two university centers, Lone Star Corporate College and LSC-Online. To learn more visit LoneStar.edu.