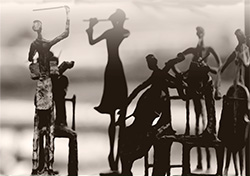 Don't miss the FotoFest exhibition reception and Lone Star College-Cy-Fair's Composers Club student performance at "An Evening of Art and Music" set March 22.
"Come to view this thought-provoking exhibition that looks at the art of activism and the activism of art," said Bosque Gallery Director James Campbell. "Stay a while to meet this talented photography artist and to enjoy student entertainment at this special reception evening."
LSC-CyFair's Bosque Gallery is one of the participating spaces in the Houston Fotofest 2018 Biennial, a critically acclaimed international contemporary photography exhibition.
Gary Watson's spring exhibition "Be Yourself – Speak Your Mind: The Art of Self-Expression" will be on display through April 12.
The reception from 5 p.m. – 7 p.m. includes an artist talk at 6:30 p.m. and features musical interludes with LSC-CyFair Professor Brian Herrington's students.
Gallery hours for this exhibition are 10 a.m. – 3 p.m. Monday through Thursday.
The Bosque Gallery is located in the Center for the Arts building on the Barker Cypress campus at 9191 Barker Cypress.
For information on LSC-CyFair's art and music programs, call 281.290.5273.