Lone Star College-CyFair's Faculty Excellence Award winners – Heather Cannon, Amlan Datta, Nina Javaher and Kimberly Mori – are passionate about helping students develop lifelong learning and problem-solving skills applicable to their lives.
"It's getting students to learn to communicate with each other in a way that they pick up soft skills so they can go out and effectively communicate later in the workforce," said Cannon, Computer Information Technology instructor for more than 10 years.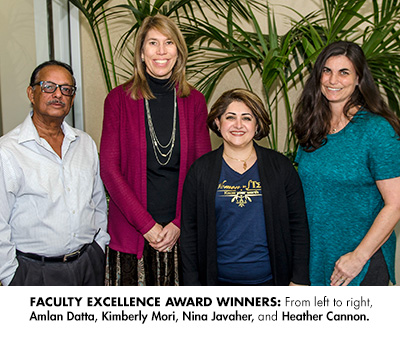 Cannon, also a winner of the John and Suanne Rouche Excellence Award, loves seeing the pride in her students as they learn to use available resources and successfully master and apply the skills and concepts learned in class to their lives.
After 21 years in the corporate world, Datta found a new career teaching for almost two decades now and at LSC-CyFair since 2014. He works hard to be a role model who inspires his students to excel and become independent, critical thinkers, not only in the classroom, but in life.
"I've seen students come to the subject (of micro and macro economics) with a sense of dread. I understand that, so I think, what can I do to make it interesting and fun?" said Datta. "Seeing students succeed makes me happy that I could play a tiny part in their progression."
An advocate for women in STEM (Science, Technology, Engineering and Math) careers, Javaher strives to create an informative, fun, inspiring and dynamic learning environment in the classroom, since many don't take Computer Science because they are afraid of math.
"However, I believe if they give Computer Science a chance, they will fall in love with math," said Javaher, who's been full time at LSC-CyFair since 2014 after 12 years teaching at her alma mater New Mexico State University. "Through Computer Science they will get to see the beauty of Computational Math as well as its implications."
Mori said it's important to customize her First Year Experience curriculum to meet her students where they are, whether they are right out of high school, non-traditional, veteran or international students. She wants them to see the benefit of sharing perspectives, listening for understanding and respecting differences with hopes it becomes part of the way they approach the world.
"The transition to college can be a bumpy road for many students. I see my role as easing this transition with a supportive environment and frequent opportunities to engage each other and to practice critical thinking skills that will help them in college and beyond," said Mori, a previous LSC-CyFair Adjunct Faculty Excellence Award winner.
Recently recognized for their outstanding service in a system-wide employee event, these four faculty members will also be honored at an April campus-wide event.
Registration is open for May mini-mester and summer classes at LoneStar.edu/registration. For information on LSC-CyFair events and programs, go to LoneStar.edu/cyfair.