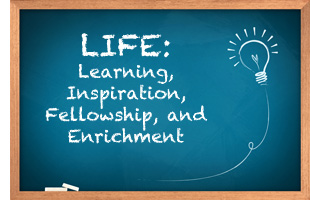 Lone Star College-CyFair's free June workshops use the five senses with summer reads, food-savvy first ladies, beginner genealogists and healthful fruit of the sea discussions.
The Learning, Inspiration, Friendship and Enrichment (L.I.F.E.) programs are held Wednesdays from 10 a.m. to 11 a.m. in the library (LRNC room 131 unless otherwise noted) at 9191 Barker Cypress.
June 6 — The Blue Willow Picks for Summer Reading
Valerie Koehler, owner of the Blue Willow Book Shop, is back with her book talk on cool new summer reads. Door prizes conclude the event.

June 13 — First Ladies Bake
Pam Panettiere, historian and librarian, did some research and gives us a kitchen eye's view of some of our more food-savvy first ladies.

June 20 — Think Like a Genealogist: Using the Five Senses
Franklin Smith of the Clayton Library Center demystifies the research process for beginning genealogists using the senses as a guide. Smith uses examples from his own family to demonstrate how the process works. Visit the library's Humanities Texas Exhibition "Black Art—Ancestral Legacy: The African Impulse in African American Art."

June 27 — Wild Caught or Farmed? Atlantic or Pacific?
You may give your fish the sniff test, but is that enough? Susan and Channing Green share their enthusiasm for the environment and sustainability as they give pointers on what healthful fruit of the sea to eat and not to eat.
Call the library at 281.290.3214 for L.I.F.E. program information or go online to LoneStar.edu.