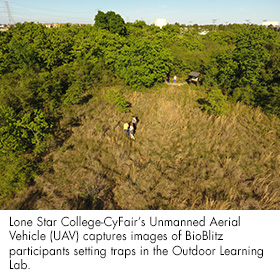 What's lurking in the shadows after hours in the Outdoor Learning Lab at the Lone Star College-CyFair campus? A bobcat, along with other wildlife, has been known to pass through the 4 acres of naturally wooded green space.
"While there has been no bobcat sightings recently, I've seen coyotes, raccoons, cotton tail rabbits, striped skunks, roof rats or Norway rats, fox squirrels, a feral hog and birds," said Biology Professor Clay White. "And a Virginia opossum wanders out there. He's a big nasty-looking beast."
Throughout the year and depending on weather, college and community members alike are seen in the wooded area that features a quarter mile trail that loops around the classroom area with several benches. White said he's seen families hanging out, children riding their bikes and a woman photographer using it as a backdrop.
The Outdoor Learning Lab also enhances the student learning experience in different disciplines at LSC-CyFair. For example, some environmental science and general biology instructors have their students collect, count and identify plant species as well as perform soil analysis and field observations in this space.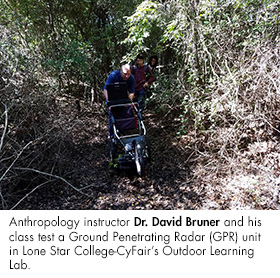 Anthropology instructor Dr. David Bruner demonstrated an archaeological excavation technique called shovel testing with his class and tested a Ground Penetrating Radar (GPR) unit.
"The shovel testing did not turn up any artifacts, but it was fun to test the GPR and dig a few shovel tests in the one area of campus that could potentially have had unimpacted deposits going back 70+ years ago," he said.
Buck Buchanan's geography honors student Andrea Russ has also flown the college's Unmanned Aerial Vehicle (UAV) taking aerial images of the campus.
Aerial shots were also taken recently during the campus-wide BioBlitz, which was the culminating Earth Week event. One student, Faith Natasi, helped record species of birds and plants as well as set traps to catch and release animals for documentation purposes during this culminating Earth Week event.
"I learned a lot about the animals and the plant life that is surrounding campus," said Natasi, who is interested in becoming a veterinarian or an agriculture or biology teacher. "The BioBlitz has impacted my goals by making my resolution to achieve them so much stronger. There is so much more I can learn and pass onto others from either field I choose."
During the 24-hour period of the BioBlitz (2 p.m. – 2 p.m. April 19-20), White said participants identified 108 species on the college campus, including 45 species of plants, 47 species of birds, 9 species of fish, 4 species of mammals, and 3 reptile species.
"It's the college's diverse landscape and native plants attracting wildlife to the campus," said White.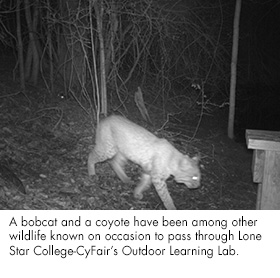 LSC-CyFair was originally designed with mass plantings of native trees and grasses indigenous to the Katy Prairie as the environmental signature of the campus. The front lakes and central waterway helps sustain wildlife and provides a habitat for migratory bird populations.
In addition, the campus has purple martin and bat colonies as a result of community involvement and grant funds. A new grant submission is currently under review for a trails project.
"This spring, we applied for a Texas Parks and Wildlife Department (TPWD) trails grant for creation of a long-term sustainable trail system that connects our lakes to those in Towne Lake, which goes through the Outdoor learning Lab," said White.
LSC-CyFair submitted an application proposal to the TPWD's Recreational Trails Program (RTP) for creation of new trails with a request of $33,700 for a 531 sq. ft. (.10 mile) section of the trail. There was a 20% matching funds requirement for $8,500 ($5,900 cash and $ 2,600 in-kind.)
The trails project is another opportunity to utilize the land in a meaningful way for students and the community, White said.
Registration is open for summer sessions, which start June 4 and July 12 and for fall classes, which start Aug. 27. For information, go to LoneStar.edu/registration.