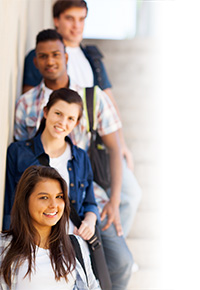 What services are offered for students with disabilities who are transitioning from high school to Lone Star College-CyFair? Find out at one of several Disability Services Information Sessions set between June 12 and Aug. 15.
"Disability Services, one of the many resources focusing on student success, provides accommodations that levels the playing field for students with disabilities," said Stephanie Dillon, counselor. "We encourage students who need our help to register with our office as soon as possible and attend an information session this summer."
Session attendees will learn about LSC-CyFair's process to receive accommodations in the college classroom, assistive technology, and resources available to college students as well as meet with Disability Services staff on hand to answer any questions.
All sessions will be held in the Center for Student and Academic Affairs (CASA) at the Barker Cypress campus at 9191 Barker Cypress.
Session dates, times and rooms are as follow:
Tuesday, June 12
2:00 pm to 3:00 pm – CASA 107
Wednesday, June 20
5:00 pm to 6:00 pm – CASA 107
Wednesday, July 18
5:00 pm to 6:00 pm – CASA 107
Wednesday, August 1
2:00 pm to 3:00 pm – CASA 112
Tuesday, August 7
10:00 am to 11:00 am – CASA 112
Monday, August 13
9:00 am to 10:00 am – CASA 112
Wednesday, August 15
5:00 pm to 6:00 pm – CASA 112
Seating is limited. To RSVP, email your name and date of session to Stephanie.G.Dillon@LoneStar.edu.
Disability Services is located in the Counseling office in CASA 109. For information, call 281.290.3260 or go to LoneStar.edu/cyfair-disability-services.