Lone Star College-Cypress Center, located three miles from the I-10 energy corridor, is meeting industry demand for trained workers with their recent expansion project.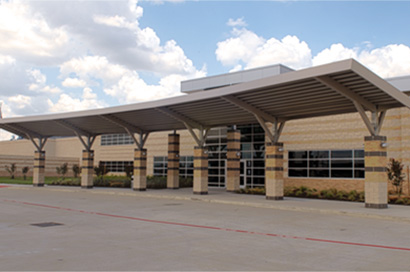 The center, which houses several workforce programs including Drafting, as well as the Engineering, Machining and Welding Technology Programs, opened in August 2013. In addition to classrooms, offices, labs and student services area, the center included a 13,500-square-foot workforce lab area.
As part of a 2014 bond referendum, the expansion project added 5,000 square feet of classroom and lab space. Some existing spaces were relocated and walls were removed to expand the machining and welding areas, add a classroom and bring over the electronics lab from LSC-CyFair's Barker Cypress location.
"Things are picking up in industry and not just oil and gas; it's other manufacturing, too. Some companies are dealing with plastic, machining aerospace parts and fasteners," said Michael Young, LSC-Cypress Center's Director of Advanced Technology.
Among companies hiring LSC-Cypress Center machinists, welders and industrial electronic technicians are C&J Equipment Manufacturing, Mitsubishi Caterpillar Forklift America, Baker Hughes and Schlumberger. In fact, four students just accepted summer internships at MFCA.
To continue to serve the current demand in manufacturing and 3D printing skills, new and updated equipment is planned for drafting, machining and engineering students. Among the equipment list are five manual mills, three manual lathes, two Stratasys 3D printers and state-of-the-art 5-axis and multi-axis machining to replace two CNC machines being retired, Young said.
"With the recent center expansion, we are meeting the demands right now. As long as we stay up on teaching with the three Rs - real, relevant and related to current industry standards and practices - and training students with current technology, then we won't have a problem keeping up with the volume of students," Young said.
Registration is open for Summer II, which starts July 12 and for fall classes, which start Aug. 27. For information, contact Workforce Advisor Valerie Pinto at Valerie.Pinto@LoneStar.edu. To apply, go to LoneStar.edu/registration.