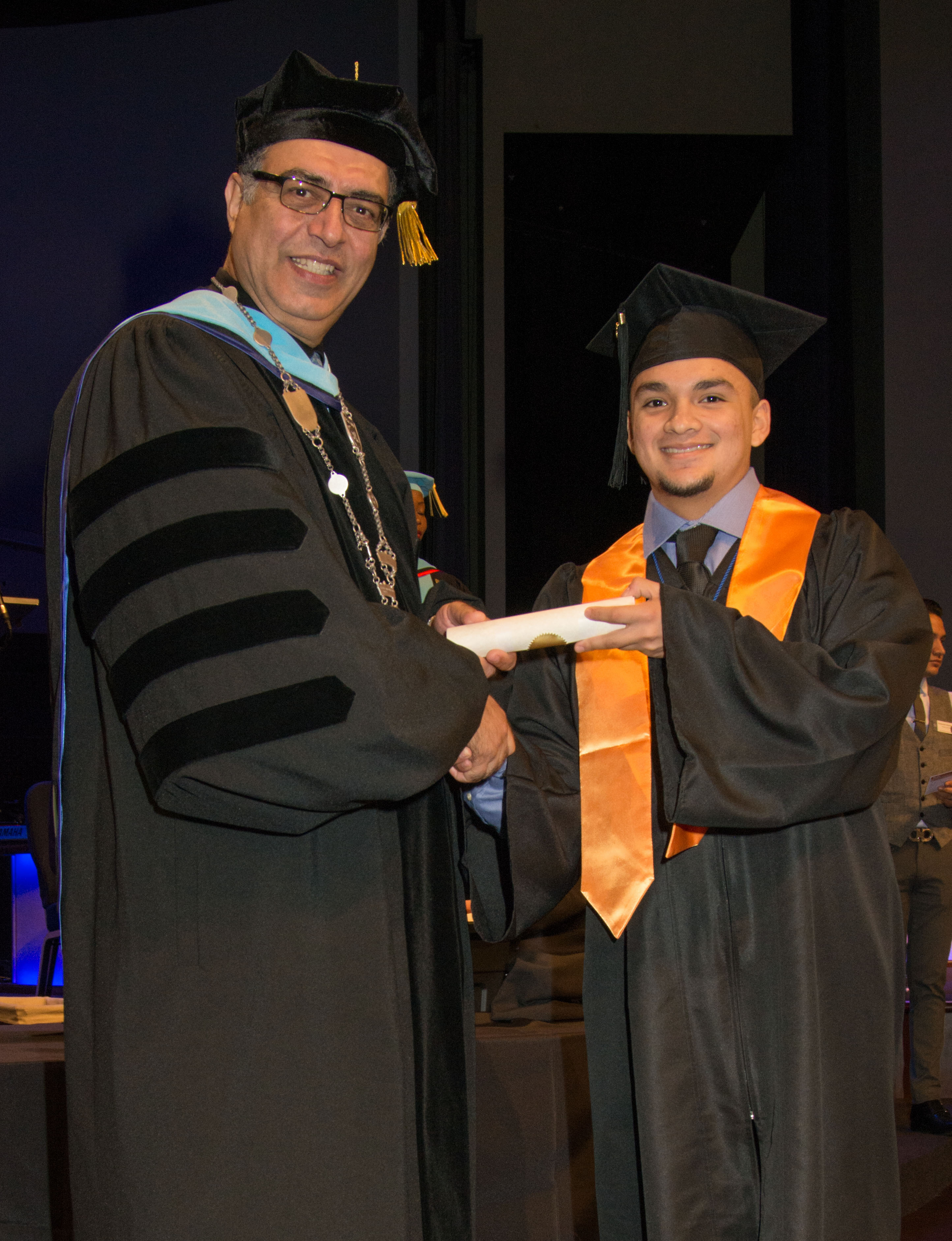 HOUSTON – Lone Star College-University Park offers a variety of programs which meet students' academic and personal goals. Through the college's dual credit program, students can begin earning college credit as early as their freshman year in high school.

LSC-University Park partners with independent school districts, charter schools and private schools, such as Klein ISD and Harmony Public Schools, as well as with home school parents, to offer dual credit courses in the core curriculum, foreign languages, and workforce education. Students can take courses at the high school campuses, LSC-University Park or online. With a Dual Credit Tuition Waiver, students save nearly 65 percent, for a cost of $72 for a three-credit hour, face-to-face class.

Noah Ortiz, an iSchool High at University Park student, graduated this spring with both an associate of science and an associate of arts degree before completing high school.

"We recognize that each of our over 13,000 students are as unique as their goals and aspirations. Our goal is to offer them programs and resources to help them reach their goals as quickly and inexpensively as possible," said Dr. Shah Ardalan, LSC-University Park president. "Noah took advantage of the opportunities before him and has been extremely successful as both a high school student and a college student. He has also been able to develop the discipline needed to excel in the next stage of his college career while keeping college costs low."

Ortiz utilized campus resources available to all LSC students, including academic coaching, to maintain high grades in challenging courses like calculus and chemistry.

"I went to LSC-University Park's math and science hotspots when I needed help, and attended study sessions offered by my professors," said Ortiz. "I feel really prepared for what's coming in the next few years in college. I think being here at Lone Star motivated me to work harder and I think anyone who comes here would feel the same way, whether or not they were a dual credit student. It's a good environment for learning and having fun."

To focus on his college and high school courses, Ortiz honed his time management and study skills and spent less time hanging out and consuming entertainment. The extra effort paid off when he and other high school students were recognized at spring commencement.

"I felt really good when the president highlighted the high school students graduating with their associate degrees at the 2018 Commencement Ceremony," said Ortiz. "Through my experience at LSC-University Park, I learned that it is okay to make sacrifices as long as you have your goals in mind. When I first came here, I never thought I would have accomplished what I have now."

Of the more than 700 students that graduated from LSC-University Park this academic year, 35 were high school students. Ortiz earned enough college credit to satisfy nearly half of the requirements toward a bachelor's degree. He expects to earn a Bachelor of Science in biology from the University of St. Thomas Houston with future plans to attend medical school.

For more information about the dual credit program, visit LoneStar.edu/DualCredit.