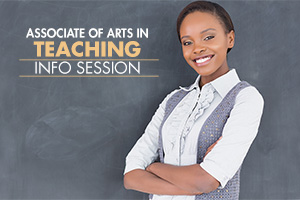 Are you interested in pursuing a career in education? Would you like an education program that meets your needs?
Come hear how Lone Star College-CyFair's Associate of Arts in Teaching (AAT) program is the right choice for you.
Attend an information session now to learn about the innovative education programs offered through LSC's university partners. LSC-CyFair faculty and advisors will be on hand to answer questions about the AAT two-year degree program.
Find out what it takes to become a Texas certified teacher and the benefits of enrolling in LSC-CyFair's AAT program, which satisfies the core requirements for baccalaureate programs at four-year institutions that lead to Texas teacher certification.
Register for an information session available from 9 a.m. – 11 a.m. Tuesday, Sept. 18 and again from 6 p.m. to 8 p.m. Thursday Sept. 20 in the Conference Center room 152-153 at 9191 Barker Cypress. Light refreshments will be served.
Contact Fay Lee, LSC-CyFair's Lead Faculty for the Education Department, for event or program information or visit LoneStar.edu/teaching-aa or LoneStar.edu/cyfair-aat.