Former Lone Star College-CyFair student Shiven Patel is on the way to fulfilling his dream of becoming a disability advocate lawyer.
"All throughout my education I was pushed to my limits, especially as a student with a disability," said Shiven, who is legally blind. "I have faced a fair amount of discrimination both in my personal and professional life. I understand the daily struggles of others struggling with discrimination and that is what made me want to advocate for my community."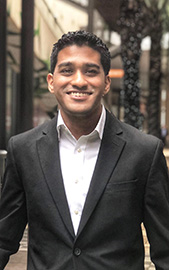 In 2012 he graduated Cypress Falls High School in just three years and enrolled at LSC-CyFair, where he majored in Supply Chain Management after taking Managerial Accounting and Introduction to Logistics Management classes.
"What fascinated me was the idea of a supply chain representing the entire process of what a product goes through from the product's conception to the consumer," said Shiven.
While at LSC-CyFair, he said he appreciated the small classes and professors who took time to get to know their students and be available outside of class. He also received assistance from the Disabilities Services staff who provided accommodations and technology he needed to succeed in the classroom. In addition, he learned the importance of a hard work ethic, which led to making the President's List and maintaining a 4.0 his last two semesters.
Shiven transferred to the University of Houston and graduated in December 2016 with a Bachelor of Business Administration in Supply Chain Management. However, having always had an ambition of becoming a lawyer, he became a full-time law student at South Texas College of Law Houston.
While in law school, the work ethic learned at LSC-CYFair became an advantage at two internships. He interned at the Harris County Attorney's Office working on public nuisance cases protecting citizens from habitual criminal activity and American Airlines in their government affairs division lobbying on Capitol Hill on issues affecting the airline or passengers.
"I was able to acquire an ambition to consistently strive for greatness in everything that I did," he said. "I was very comfortable going to ask questions and taking the time to get to know my supervisors in the workplace."
With plans to graduate law school in December 2019, Shiven is looking forward to a rewarding career advocating for those with disabilities.
Spring registration begins Nov. 14. For information, go to LoneStar.edu/registration.