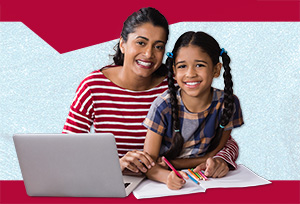 Following the successful launch last fall, Lone Star College-Cypress Center continues this spring with Family Study Nights, a time for students to utilize tutoring and study support services, and bring their children.
"The center offers a safe place for children to do homework, while their parents attend tutoring in math, biology, and English, many of whom said they would not have been able to do without these sessions," said Director of Student Services Bill Hackley.
Angela Rosales was among the fall participants of Family Study Nights. Scheduled late in the afternoon made getting help more manageable for her and her friends. Getting some one-on-one time with a professor, when she couldn't grasp what the book was trying to explain, was an amazing opportunity that was helpful, she said.
"It is a small-group environment with professors who actually teach the material," Rosales said. "Even if it isn't your own professor doing the tutoring, another outlook may be what you need to understand the material."
This event is a win-win for current students who are trying to juggle parenting and get the academic support needed to further their education and career.
"In addition, while not concretely attributed to Family Study Nights, the overall GPA averages of attendees showed a .60 GPA increase, which we do see as a positive indicator of the services offered through this program," said Susan Martin, advisor who implemented this service.
Pre-school to middle-school children are provided cartoons, books, games, blocks, coloring and activities as well as volunteers who are ready to help school-age children with homework. Free pizza will be available for students and their children.
While it is a come and go as needed event, student parents may not leave the designated study area without their children. Young infants should have appropriate carrier/strollers and all children should be able to maintain generally appropriate behavior.
Family Study Nights will be held from 5 p.m. – 7 p.m. Wednesday Feb. 6, Tuesday Feb. 19 Wednesday March 6, Tuesday, March 26 and Wednesday, April 10.
Family Study Nights "Finals Edition" will be held Tuesday, April 23, Wednesday April 24, Tuesday April 30 and Wednesday May 1.
For information, email Susan.Martin@LoneStar.edu or call 832.290.5031.