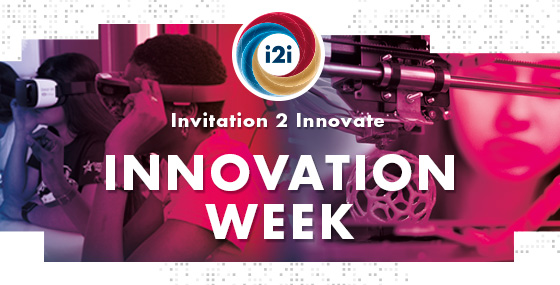 Students, staff, faculty and community members are invited to celebrate LSC-University Park's spirit of innovation and technology with engaging, hands-on experiments, demonstrations and seminars during Innovation Week!

Monday, Feb. 18
Virtual Reality Day
B12.2 Hallway | 10 a.m. – 2 p.m.

Strap on a VR headset and hop on a stationary bike to experience a virtual ride.
---
Tuesday, Feb. 19
Innovations in Teaching Day

Center for Science & Innovation (CSI) | 10 a.m. – 2 p.m.
Join us for a planetarium demonstration in the CSI lobby.

Energy & Manufacturing Institute (EMI) | 10 a.m. – 2 p.m.
Enjoy demonstrations of LSC-University Park's new automated manufacturing line.

Multipurpose Room, B13.210 | Noon – 1:30 p.m.)
Join a seminar to learn how LSC-University Park faculty are utilizing innovative teaching methods
Innovation Seminars:
What is Social Innovation?

Innovative Reading Program, ReadUP!,
as a Change Maker on Campus.

Design Thinking for Problem Solving.

Innovating Dracula.
i2i Innovation Showcase Introduction
Learn about the i2i Innovation Showcase and how you can pitch your innovative idea to the LSC-University Park President and community.
---
Wednesday, Feb. 20
Robotics Day
B12.2 Hallway | 10 a.m. – 2 p.m.

Try your hand at robotics with our robot maze challenge and Sphero bowling game.
---
Thursday, Feb. 21
3D Design & 3D Printing Day
B12.2 Hallway | 10 a.m. – 2 p.m.

Design and print your initials using 3D printers and create a 3D outfit for an Ozobot using a 3D pen in our robot costume contest.