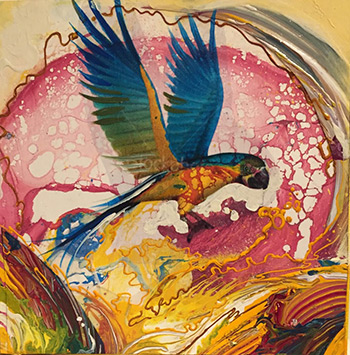 Stop by a special art exhibition "Reverie & Muse" in memoriam of professor and art department chair Laura Fisher, who passed in 2017.
"We miss Laura's passion, the way her face melted into pure joy when she found humor in any situation and her unquenchable desire to take on any challenge and fight the good fight," said Dean Dr. Kelly Gernhart. "Laura was highly creative and a very strong advocate for the arts. She always found time to further her passion for creating things of beauty herself, while teaching others her craft."
This tribute exhibition, on display Feb. 28 through April 11, features Fisher's early, prime and late works in mixed media plus responsive works of students, friends, colleagues and family members she inspired or mentored.
Learn more about Fisher at the opening reception from 5 p.m. – 7 p.m. Thursday, Feb. 28 and at the Tea+Art+Talk at 1:30 p.m. – 2:15 p.m. Tuesday, March 26.
The Bosque Gallery is located in the Center for the Arts building on the Barker Cypress campus at 9191 Barker Cypress. Gallery hours are 11 a.m. – 3 p.m. Tuesday through Thursday. For information, go to LoneStar.edu/bosquegallery or call 281.290.5273.