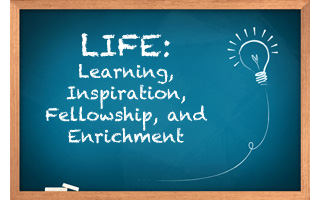 Make derby hats, try soul food, hear about D-Day, create folded art and play brain games this May at Lone Star College-CyFair.
The free Learning, Inspiration, Friendship and Enrichment (L.I.F.E.) programs are held Wednesdays from 10 a.m. to 11 a.m. in the library (LRNC room 131 unless otherwise noted) at 9191 Barker Cypress.
May 1 — Derby Mania
Make a fascinator with LSC-CyFair's own Paula Martin. Celebrate the upcoming Kentucky Derby on May 4 with native Kentuckian, Rachel Hugenberg. Come for the horses, stay for the fascinators (hats).

May 8 — Soul Food and African-American Culture
Restaurateur and chef Jonathan Rhodes of Indigo prepares his unique versions of African-American dishes and discusses how they reflect culture, politics, and history

May 15 — D-Day and the European Theater's Second Front
In honor of the 75th Anniversary of D-Day, military historian Keith Altavilla looks at the strategic decision-making that led to the development of Operation Overlord and the Allied landings at Normandy on June 6, 1944.

May 22 — Installation Art with Origami Cranes and Boats
LSC-CyFair Division Operations Manager, Heidi Scanio, will get us folding to create a unique LIFE installation art project. Add this to your portfolio!

May 29 — Brain Power Busters
Learn different ways to exercise your brain with fun games and information. Professor Shamim Arastu and Children's Library Assistant, Cindy Hoffart-Watson, will discuss the importance of keeping our brains active and healthy.
Call the library at 281.290.3214 for L.I.F.E. program information or go online to LoneStar.edu.