Although some believe the economy is slowly recovering, many non-profit organizations are still making tough financial decisions.
With that in mind, Lone Star College-Kingwood's Visual Communications Department is lending its services and resources to create a variety of free marketing pieces for local non-profit organizations at its 9th annual Design-A-Thon on Friday, April 13 from 8 a.m.-8 p.m. in the Administration Building room 202.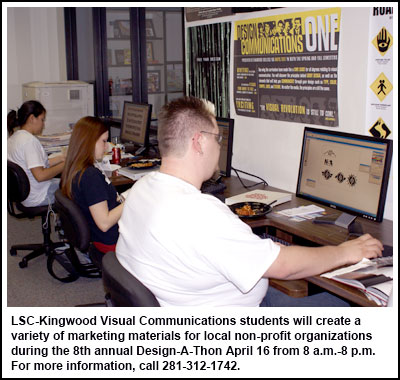 "The purpose of Design-A-Thon is two-fold. First, we want to reach out to our community and help non-profit organizations with graphic design needs that they would normally not be able to afford. Second, we want to give our students real world contact and exposure to actual clients so they can experience what a real design firm would go through in regards to problem solving and deadlines," said Shawn Sedoff, Visual Communication professor. Non-profits are encouraged to submit as many projects as they want, but are asked to list them in order of priority. Types of projects that will be accepted are logos/stationary, fliers, posters, banners, book covers, in-store displays, advertisements, brochures, CD jackets, thank you cards, invitations and web pages.
Design-A-Thon services will include logo design, letterheads and stationary packages, brochures, posters, book covers, advertisements, CD jackets, thank you cards, invitations, and on a limited basis, website design. Organizations whose design needs take longer than a day to complete, such as animated motion graphics or videos, are encouraged to contact Sedoff so he can incorporate those projects into his classes during the semester.
"This is win-win situation. Organizations receive free graphic design products while students receive community service learning credit, design pieces for their portfolios and a great and rewarding experience," Sedoff said.
For more information or to request services, email Shawn Sedoff at Shawn.G.Sedoff@LoneStar.edu with the subject: Design-A-Thon Non-Profit Request. Requests via phone will not be accepted. The deadline to request services and submit a form is Friday, April 6.
---
Register now for credit classes online through myLoneStar. Classes are offered days, evenings, or weekends in traditional, Internet, video, TV and independent study formats. For more information on how to register online, visit www.LoneStar.edu/registration.
For general information about Lone Star College-Kingwood, call 281-312-1600 or visit http://lonestar.edu/kingwood.htm
With more than 69,000 students in credit classes for spring 2011, and a total enrollment of more than 85,000, Lone Star College System is the largest institution of higher education in the Houston area, and the fastest-growing community college system in Texas. Dr. Richard Carpenter is the chancellor of LSCS, which consists of five colleges including LSC-CyFair, LSC-Kingwood, LSC-Montgomery, LSC-North Harris, and LSC-Tomball, six centers, LSC-University Park, LSC-University Center at Montgomery, LSC-University Center at University Park, Lone Star Corporate College, and LSC-Online. To learn more visit www.LoneStar.edu.