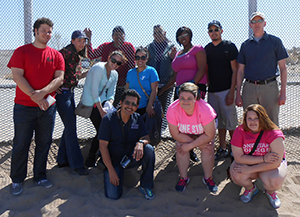 LSC-Kingwood students and professors spoke to
residents at the U.S.-Anapra, Mexico border fence
line. The group participated in the Alternative
Spring Break Program in El Paso and New Mexico.
Spring break is when some college students go to the beach or party, but for eight students and two professors at Lone Star College-Kingwood, it was a time to experience a different life beyond what they learned in the classroom.
Through the Alternative Spring Break Program, students traveled nearly 800 miles to El Paso and New Mexico to learn firsthand the realities of border life. Although they were exposed to course literature about history on the border and sensationalized media stories, students quickly realized their preconceived notions were more of a fallacy than fact.
"Based on reports from the media, my impression of the border in El Paso was that it is dangerous and there are a lot of drug cartels," said Michelle Balliet, student. "But when I got there, it was safe and there was a sense of closeness. The people that we spoke with were not violent or hateful. They were kind-hearted individuals who are trying to flee from a bad situation to make a better life for their families."
During their 10-day journey, the students and professors had a unique opportunity for an open and honest conversation with Juárez residents through a tempered reinforced steel fence that physically separates México and the United States of America. Under the 24-hour watch of the U.S. Border Patrol, students learned about the cartel violence and other problems from the people who live on the border.
"The people were very welcoming and were eager to share their stories. They were glad that their voices were being heard," said LaShonda Drake, student. "There is a negative connotation regarding people who are undocumented. When speaking to them, it was heartbreaking to hear that most of them have been on a list for 20 years to become documented. It made us realize that despite what is in the media, they do want to come into the U.S. legally."
Students also visited with various nonprofit organizations that help residents obtain their U.S. Citizenship and overall self-empowerment. They visited Segundo Barrio, the poorest urban zip code in America, where people of Mexican heritage earn per capita $5,600 a year. There, students visited several churches built more than a century ago and they learned how the churches became products of maintaining residential segregation racial patterns.
Students also visited the Farmworker Center where they saw firsthand the exploitive agricultural system that exits in America. They also toured the oldest missions and communities in Texas located in El Paso's Lower Valley. They visited Ysleta Mission, Mission Socorro in Socorro, Texas and the San Elizario Chapel in San Elizario, Texas. Partnering with the Border Servant Corp in Las Cruces, N.H., the students and professors slept at Peace Lutheran Church. The experience pushed students out of their comfort zones as they slept in sleeping bags and learned about communal living.
"Some students got more out of this trip than others in terms of feeling heartfelt compassion for the plight of the undocumented and America's migrant farmworkers in the immediacy of the experience," said Raúl Reyes, history professor. "This border immersion experience provided a lasting attitudinal point of reference that can't be dismissed since all of our collective experiences, both good and bad, will become part of our character and moral code."
The Alternative Spring Break Program was coordinated through the college's Center for Civic Engagement. As the only community college chosen in Texas to participate in the nationwide initiative, "Bridging Cultures", this journey sought to expose and cultivate students' value system while expanding their knowledge of other cultures and developing skills to work across differences toward common goals.
"This journey to the borderlands represented an undertaking of self-sacrifice designed not only to educate our students beyond book learning and static classroom setting but to take them to a border environment which required their immersion and physical engagement with a people and area that are linguistically and culturally different than their own," Reyes said.
Prior to embarking on the trip, students read "Desert Immigrants" in their U.S. History 1302, with special emphasis on immigration and ethnic history issues. The book provided them with the necessary background information on El Paso and the Mexican Immigrant story. In addition to interacting with and listening to the stories of those who live on the border, the students also had an opportunity to visit the White Sands National Park.
For more information on the Alternative Spring Break Program, email Raul.R.Reyes@LoneStar.edu.
Register now for credit classes online through myLoneStar. Classes are offered days, evenings, or weekends in traditional, Internet, video, TV and independent study formats. For more information on how to register online, visit www.lonestar.edu/registration.
For general information about Lone Star College-Kingwood, call 281.312.1600 or visit http://lonestar.edu/kingwood.htm.
Lone Star College System has been opening doors to a better community for 40 years. Founded in 1973, LSCS remains steadfast in its commitment to student success and credential completion. Today, with 78,000 students in credit classes, and a total enrollment of more than 90,000, Lone Star College System is the largest institution of higher education in the Houston area and the fastest-growing community college system in the nation. Dr. Richard Carpenter is the chancellor of LSCS, which consists of six colleges including LSC-CyFair, LSC-Kingwood, LSC-Montgomery, LSC-North Harris, LSC-Tomball and LSC-University Park, five centers, LSC-University Center at Montgomery, LSC-University Center at University Park, Lone Star Corporate College, and LSC-Online. To learn more visit LoneStar.edu.
###