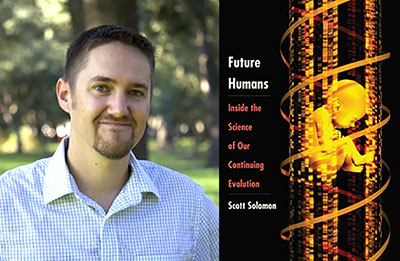 Biologist and author Dr. Scott Solomon, left, will discuss the future of human evolution at LSC-Kingwood on Nov. 9 at 12 p.m. in the Music Recital Hall. 
The future of human beings is a complex and interesting topic that will be discussed in detail at Lone Star College-Kingwood.
A Rice University professor and evolutionary biologist, Dr. Scott Solomon will share the research and ideas contained in his new book, "Future Humans: Inside the Science of Our Continuing Evolution" with students, employees and the community. The free presentation is on Wednesday, Nov. 9 from 12-1 p.m. in the Music Recital Hall.
"This presentation will draw on the explosion of scientific discoveries in recent years to examine the future evolution of our species," Solomon said. "Combining knowledge of our past with current trends, I will describe how evolutionary forces still affect us today and how these forces may change moving forward."
Solomon will explore ideas such as, how modernization - including longer lifespans, changing diets, global travel, and widespread use of medicine and technology - affects ongoing evolution and whether a new species of human might evolve in the future.
"As humans, we tend to think of ourselves as being separate from nature, including processes like natural selection that results in evolutionary change. Yet the evidence is clear, like all species, humans have evolved and are continuing to do so," he said. "Our future will depend on many things, including how we interact with each other and with our environment. We may eventually become extinct like the 99.99 percent of other species that have ever lived."
Solomon will sign copies of his book, "Future Humans: Inside the Science of Our Continuing with Evolution", after his presentation. For more information on this talk, email Dr. John Barr, LSC-Kingwood history professor, at John.M.Barr@LoneStar.edu.
Register now for credit classes online through myLoneStar. Classes are offered days, evenings, or weekends in traditional, Internet, video, TV and independent study formats. For more information on how to register online, visit www.lonestar.edu/registration.
For general information about Lone Star College-Kingwood, call 281.312.1600 or visit http://lonestar.edu/kingwood.htm
Known for its leadership, innovation and steadfast commitment to student success, Lone Star College provides high-quality academic transfer and workforce education/career training programs to more than 85,000 credit students each semester, and a total enrollment of 98,000 students. LSC is training tomorrow's workforce today and redefining the community college experience to promote student success and economic prosperity. Stephen C. Head, Ph.D., is the chancellor of LSC, the largest institution of higher education in the Houston area, which consists of six colleges, eight centers, two university centers, Lone Star Corporate College and LSC-Online. To learn more visit LoneStar.edu.
###