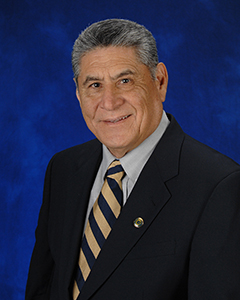 What started off as a dissertation to earn a Ph. D. turned into an educational tool for many college students across the state.
Dr. Arnoldo DeLeón, history professor at Angelo State University (ASU), wrote "They Called Them Greasers: Anglo Attitudes toward Mexicans in Texas, 1821-1900" to enlighten people on the racial attitudes toward Mexicans. In honor of the book's 30th anniversary, DeLeón will share with students, employees, and the community at Lone Star College-Kingwood some important lessons learned from history. The event, which follows the college's celebration of Hispanic Heritage Month, will be held on Nov 14 at 7 p.m. in the Student-Conference Center.
"My purpose is to inform students as to the circumstances, personal experiences, and the scholarship that influenced the contents of the book," he said. "The Civil Rights movement of the 1960s and 1970s, my personal background as a farm laborer in Robstown, Texas, and the dominant scholarship of that era very much determined the writing of this work, which became a classic."
According to DeLeón, the book chronicles the many attitudes that whites in the 19th century held toward Texas Mexicans. Anglos saw Mexicans as being indolent and lax in ambition, a people with an inherent thirst for brutality, and ones uncaring about proper standards of morality. He wrote that to control Mexicans, Anglos used intimidation, violence, and lynching.
"Such attitudes and control mechanisms used in the 19th century no longer prevail," he said. "Through this talk, I hope the audience will learn how books in many cases become a product of a writer's experience. I also hope they learn about the terrible experiences that Mexican Americans once encountered in their efforts to shape normal community life."
In the last 30 years, "They Called Them Greasers: Anglo Attitudes toward Mexicans in Texas, 1821-1900" has influenced students, historians and professors' perception of what life was like for Mexicans. According to LSC-Kingwood history professor Cassandra Rincones, Ph. D., this book and the talk will allow people to learn about the past and make a conscientious effort to change things for the future.
"I think the audience will learn about the major obstacles Tejanos faced and ultimately overcame in the 19th century," Rincones said. "This presentation will also benefit students in that it will complement disciplines that cover aspects of race and ethnicity, such as history, political science, sociology, criminal justice, and more. In addition, it would also contribute to the ongoing success of the college's Bridging Cultures Initiative intended to foster a learning environment that emphasizes cultural diversity, acceptance, and awareness."
DeLeón earned his Ph. D. from Texas Christian University. He has been a history faculty member at ASU since 1973 and his areas of specialization include Mexican American History, The History of Texas, Cold War America, and Latin American History.
For more information on the "They Called Them Greasers: Anglo Attitudes toward Mexicans in Texas, 1821-1900" event at LSC-Kingwood, email Cassandra.Rincones@LoneStar.edu.
Register now for credit classes online through myLoneStar. Classes are offered days, evenings, or weekends in traditional, Internet, video, TV and independent study formats. For more information on how to register online, visit www.lonestar.edu/registration.
For general information about Lone Star College-Kingwood, call 281.312.1600 or visit http://lonestar.edu/kingwood.htm.
Lone Star College System has been opening doors to a better community for 40 years. Founded in 1973, LSCS remains steadfast in its commitment to student success and credential completion. Today, with 78,000 students in credit classes, and a total enrollment of more than 90,000, Lone Star College System is the largest institution of higher education in the Houston area and the fastest-growing community college system in the nation. Dr. Richard Carpenter is the chancellor of LSCS, which consists of six colleges including LSC-CyFair, LSC-Kingwood, LSC-Montgomery, LSC-North Harris, LSC-Tomball and LSC-University Park, five centers, LSC-University Center at Montgomery, LSC-University Center at University Park, Lone Star Corporate College, and LSC-Online. To learn more visit LoneStar.edu.
###