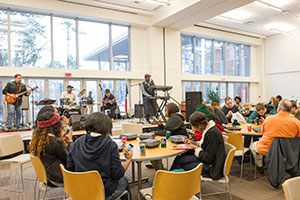 LSC-Kingwood invites students, employees and the community to celebrate Black History Month in February.
 Lone Star College-Kingwood offers not only a quality education, but also activities and events rich in culture.
In February, the Intercultural Center and the Office of Student Life invites students, employees and the community to participate and attend Black History Month events. The purpose is to share perspectives, expand beliefs and facilitate healthy discussions on sensitive topics.
"Black history has a major role in the makeup of our society and its contributions should be celebrated and taught," said Charles Wright, LSC-Kingwood student and president of the Student Government Association and the African American Student Association.
Black History Month will kick off with keynote speaker Dr. Abul Pitre on Feb. 11 at 7 p.m. in the Student Conference Center (SCC). A professor and department head at Prairie View A&M University, Pitre will discuss "The Jewels of Black History: A New Consciousness for Humanity." The audience will not only learn about the rich history of African Americans, but students will have an opportunity to engage in discussion regarding the inequalities and issues currently facing society.
"Dr. Pitre's presentation will demonstrate to us the importance of understanding the past and the significant lasting impact it has on present day. Furthermore, students will be able to develop strategies to become agents for change," said Kristen Wilkes, intercultural program coordinator at LSC-Kingwood.
Along with learning about rich history and culture, the public is invited to a film screening of, "Selma" Feb. 15 at 7 p.m. in the SCC. Afterwards, the audience will have a chance to reflect on and discuss the particular events that happened in Alabama during the 1960s.
"Through this film screening, I hope to have a heart-changing conversation and experience with my peers of different races and ethnicities," Wright said. "I know this movie shines a necessary light on our history pertaining to racism and discrimination."
During the fall 2015, LSC-Kingwood students and employees hosted a Race Summit in which race relations were discussed with students from the University of Maryland-Baltimore County. This year's Black History Month will culminate with Race Summit-Part II on Feb. 22 at 7 p.m. in the SCC. The discussion on race relations will continue in order to help the campus community better understand the racial climate in society and how they can work to be a part of the solution to the issues this country is facing.
"I hope to come up with real and practical solutions to bring racism and discrimination to an end," Wright said. "I look forward to hearing opposing opinions and learning to love one another despite our differences."
Lone Star College-Kingwood's Intercultural Center was created in 2011 with the vision to create systemic change toward an intercultural perspective and foster collaboration among diverse groups within and outside of the college. In addition to Black History Month, the college also hosts events that celebrate Hispanic Heritage Month, International Education Week, Women's History Month and Asian-Pacific Heritage Month.
"It is important that we celebrate all the cultures that make up our school's community," Wright said. "I am proud of the way LSC-Kingwood celebrates the different cultures."
For more information on Black History Month events or on the Intercultural Center at LSC-Kingwood, visit http://www.lonestar.edu/kingwood-intercultural-center.htm.
Register now for credit classes online through myLoneStar.  Classes are offered days, evenings, or weekends in traditional, Internet, video, TV and independent study formats. For more information on how to register online, visit www.lonestar.edu/registration.
For general information about Lone Star College-Kingwood, call 281.312.1600 or visit http://lonestar.edu/kingwood.htm.
Lone Star College System has been opening doors to a better community for 40 years. Founded in 1973, LSCS remains steadfast in its commitment to student success and credential completion. Today, with 78,000 students in credit classes, and a total enrollment of more than 90,000, Lone Star College System is the largest institution of higher education in the Houston area and the fastest-growing community college system in the nation. Dr. Stephen C. Head is the chancellor of LSCS, which consists of six colleges including LSC-CyFair, LSC-Kingwood, LSC-Montgomery, LSC-North Harris, LSC-Tomball and LSC-University Park, five centers, LSC-University Center at Montgomery, LSC-University Center at University Park, Lone Star Corporate College, and LSC-Online. To learn more visit LoneStar.edu.
###