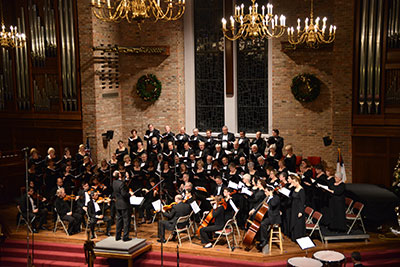 The Kingwood Chorale and Chamber Orchestra will perform two concerts of "Messiah" at 7:30 p.m. on Dec. 3 and 4. For more information, visit www.lhmas.org.
There are certain activities that come with the holiday season, and hearing the "Hallelujah" chorus in a live performance is one of them.
The Kingwood Chorale and Chamber Orchestra (KCCO) celebrates the 28th season with two convenient performances in the heart of the Lake Houston area. They will perform George Frideric Handel's "Messiah" at 7:30 p.m. on Saturday, Dec. 3 at the Atascocita United Methodist Church and Sunday, Dec. 4 at the First Presbyterian Church of Kingwood.
"'Messiah' is one of those monumental works that has been a staple of the KCCO since our group was founded in 1988," said Todd Miller, artistic director and conductor. "Handel's 'Messiah' contains some of the grandest choruses ever written and we are thrilled to present this musical gift to our community."
The 100-minute concert will contain most of the Christmas section and the most popular solos and choruses from the other two sections. Though there are some faithful patrons who have never missed a "Messiah" performance by the KCCO, this is also an opportunity for families and people who have never experienced this majestic music to hear it for the first time without having to drive downtown.
A special feature of the "Messiah" performances will be the addition of the Porter High School's Spartan Chorale, who will join the Kingwood Chorale and several choruses. This choir is led by Cara Cavenaugh-Woodard, the daughter of KCCO founder the late Dudley Cavenaugh.
The Kingwood Chorale is a 75- member community chorus in residence at Lone Star College-Kingwood. The Chamber Orchestra is a professional orchestra made up of musicians from the Houston Grand Opera and Houston Ballet Orchestra. The concert will also feature stellar soloists, including soprano Nancy Curtis, mezzo-soprano Sonja Bruzauskas, tenor Jamie Dahman and bass-baritone Ben LeClair. Curtis has been a featured soloist with the New York City Opera, Virginia Opera and the Houston Grand Opera; while Bruzauskas, a native of Germany, has been featured in this country with the Santa Fe Opera and the Bach Society Houston. Dahman, a professor of voice at Delta State University and former faculty at LSC-Kingwood, has also appeared with Houston Grand Opera and various opera companies in the Midwest. LeClair was the leading bass soloist in the Oldenburg State Theater in Germany, and has also sung leading roles with Austin Lyric Opera and Santa Fe Opera in the United States.
Tickets for "Messiah" are $20 for adults and $15 for senior citizens and students. They can be purchased online at www.lhmas.org, the Local Print Solution in Kingwood, or at the door. For more information on the concerts, visit www.lhmas.org.
Register now for credit classes online through myLoneStar. Classes are offered days, evenings, or weekends in traditional, Internet, video, TV and independent study formats. For more information on how to register online, visit www.lonestar.edu/registration.
For general information about Lone Star College-Kingwood, call 281.312.1600 or visit http://lonestar.edu/kingwood.htm
Known for its leadership, innovation and steadfast commitment to student success, Lone Star College provides high-quality academic transfer and workforce education/career training programs to more than 85,000 credit students each semester, and a total enrollment of 98,000 students. LSC is training tomorrow's workforce today and redefining the community college experience to promote student success and economic prosperity. Stephen C. Head, Ph.D., is the chancellor of LSC, the largest institution of higher education in the Houston area, which consists of six colleges, eight centers, two university centers, Lone Star Corporate College and LSC-Online. To learn more visit LoneStar.edu.
###