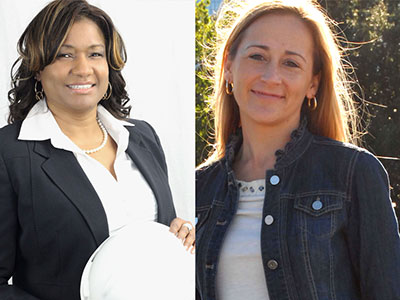 Colette Lewis and Jill Jarvis
Some of Houston's most outstanding women in the areas of science, technology, engineering and math (STEM) will share their experiences to encourage more females to enter these professions, where women represent less than one-third of those in the field.
Lone Star College-Kingwood will host a series of three STEM career nights on March 29, April 14 and May 4 from 6-8:30 p.m. in the Student Conference Center. The series is sponsored by the Women's Center, the Career Center and the Intercultural Center.
"Our goal is to have successful career women serve as role models, information sources and motivators for parents and young women in college, high school, middle school and the community who want to pursue a career in STEM fields," said Diane Blanco, Women's Center director.
To accomplish this goal, the series will feature many notable women who have successful careers in the STEM industry. On March 29, Jill Jarvis, an electrical engineer, Colette Lewis, a mechanical engineer/manager and Tammy Ahlgren, president at Mattco Manufacturing, will discuss the paths to their careers and the great opportunities that exist for young women today.
"Telecommunications and technology will only advance with a new wave of hard working, intelligent and level-headed graduates," Jarvis said. "Some of these graduates will be young men, but young women are equally qualified and will certainly make a difference in the future of technology."
Jarvis pursued a career in STEM based on her family history and her love of math and science. Her dad, uncle, brothers and cousins are also engineers. After earning a Bachelor of Science degree in Electrical Engineering in 2001, she worked in the telecommunications field for 13 years and left a year ago to start her own marketing business.
Lewis, utilizing her passion in math and science, has worked in the engineering field for 25 years. She solves problems by designing solutions in the energy industry, specifically in power generation. Lewis works at FFG Strategic Consulting LLC, an engineering consulting company in Houston. She is also an adjunct professor in engineering at LSC-Kingwood.
"I believe engineering is a male dominated field because women don't know how much fun engineering can be," Lewis said. "Having more women in the engineering field will keep the spirit of innovation alive."
Ahlgren has been president of MATTCO Manufacturing since the 1990s. MATTCO Manufacturing, an independent manufacturer specializing in the oilfield service industry since 1947, provides a full array of products from custom engineered components to complete OEM solutions for many of the world's largest reciprocating pump and drawworks equipment companies.
For more information on the STEM series, contact Diane Blanco at 281-318-4332 or email Diane.K.Blanco@LoneStar.edu.
Register now for credit classes online through myLoneStar.  Classes are offered days, evenings, or weekends in traditional, Internet, video, TV and independent study formats. For more information on how to register online, visit www.lonestar.edu/registration.
For general information about Lone Star College-Kingwood, call 281.312.1600 or visit http://lonestar.edu/kingwood.htm.
Lone Star College System has been opening doors to a better community for 40 years. Founded in 1973, LSCS remains steadfast in its commitment to student success and credential completion. Today, with 78,000 students in credit classes, and a total enrollment of more than 90,000, Lone Star College System is the largest institution of higher education in the Houston area and the fastest-growing community college system in the nation. Dr. Stephen C. Head is the chancellor of LSCS, which consists of six colleges including LSC-CyFair, LSC-Kingwood, LSC-Montgomery, LSC-North Harris, LSC-Tomball and LSC-University Park, five centers, LSC-University Center at Montgomery, LSC-University Center at University Park, Lone Star Corporate College, and LSC-Online. To learn more visit LoneStar.edu.
###