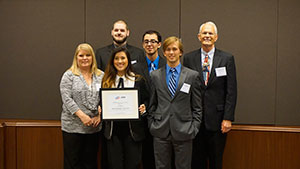 LSC-Kingwood's project management class earned first place at the American Fuel and Petrochemical Manufacturers (AFPM) Challenge in Houston. Pictured in back are Timothy Thurmon and Daniel Goncalves. In front are Jennifer Taylor, Ashley Gallegos, and Andrew Chapman. The students were led by Mike Griffith, management and marketing professor, far right.
A project management class at Lone Star College-Kingwood received an opportunity of a lifetime when they begin the spring 2015 semester.
The students were approached by EdVenture Partners to come up with a successful recruitment campaign for the petrochemical industry. After discussion and a vote, the class decided to accept the project that ultimately led them to winning first place at the American Fuel and Petrochemical Manufacturers (AFPM) Challenge in Houston. The students heavily competed against the University of Houston and the University of Texas at Arlington.
"We were excited, but nervous that we were the only community college that was selected as one of the three finalists," said Ashley Gallegos.
"I think it was a huge boon that we spread out and socialized with various CEOs the night before the presentation. They got to know more about us and we got to learn more about the industry," said Timothy Thurmon.
The project management class created an integrated communication marketing campaign to highlight different fuel and petrochemical manufacturing careers and primarily craft professional opportunities to the millennial generation. They focused on three demographics: pre-college, college, and post-college.
"The biggest misconception is that only blue collar jobs are available. I was unaware there were a variety of jobs available for people right out of high school, trade school, or college," said Andrew Chapman.
"This project turned out to be a great real life experience on how to work in a group, work with deadlines and how to solve challenges," Thurmon said. "It was intense, but rewarding."
Before and after each encounter with the millennial groups, the audience completed a survey. This allowed the project management class a chance to analyze the preconceived ideas before the event and the level of awareness after the event. For pre-college students, the class held presentations and attended career fairs at Kingwood Park, Summer Creek, Porter, Nimitz, MacArthur, Crosby, and Hargrave high schools and the Humble Career and Technology Center (CATE). On the college level, they held a recruitment fair at LSC-Kingwood where they handed out interest cards and spoke with interested students. For the post-college group, a viable social media campaign was launched using Facebook, Twitter and LinkedIn.
"For the most part, we had great responses from all three demographics, but we did have some challenges," Gallegos said. "One of the issues was figuring out why LinkedIn was not successful and how to report it without highlighting or hiding our failure."
It was determined that wrong profiles on LinkedIn hindered its success. That and other challenges did not hamper the class' chance at the AFPM Challenge. For winning first place, the group earned $5,000 for LSC-Kingwood's Business, Technology, Communication and Languages (BTCL) division and $200 for individual scholarships.
Register now for credit classes online through myLoneStar.  Classes are offered days, evenings, or weekends in traditional, Internet, video, TV and independent study formats. For more information on how to register online, visit www.lonestar.edu/registration.
For general information about Lone Star College-Kingwood, call 281.312.1600 or visit http://lonestar.edu/kingwood.htm.
Lone Star College System has been opening doors to a better community for 40 years. Founded in 1973, LSCS remains steadfast in its commitment to student success and credential completion. Today, with 78,000 students in credit classes, and a total enrollment of more than 90,000, Lone Star College System is the largest institution of higher education in the Houston area and the fastest-growing community college system in the nation. Dr. Stephen C. Head is the chancellor of LSCS, which consists of six colleges including LSC-CyFair, LSC-Kingwood, LSC-Montgomery, LSC-North Harris, LSC-Tomball and LSC-University Park, five centers, LSC-University Center at Montgomery, LSC-University Center at University Park, Lone Star Corporate College, and LSC-Online. To learn more visit LoneStar.edu.
###