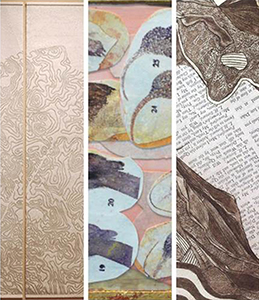 Lone Star College-Kingwood's Fine Arts Gallery will feature three guest artists' work at its "Press: O.N." exhibit from May 22-June 17.
Lone Star College-Kingwood's Fine Arts Gallery will feature three guest artists' work at its "Press: O.N." exhibit.
The pieces will be on display May 22-June 17 and the community is invited to the receptions on May 31 at 6 p.m. and June 5 at 12:30 p.m. This showcase will highlight work from Dean Dass, with the University of Virginia; Lari Gibbons, with the University of North Texas and Sandra C. Fernandez, with the University of Texas at Austin.
"These three artists are known for leadership and innovation within the field of print making. They also were selected because they incorporate a wide-range of print making methods," said Kris Larson, gallery director. "They are dedicated to maximizing their student's experiences in learning print making."
"Press: O.N." is part of a Houston city-wide celebration of original prints, the artists who create them and the people who collect them. For the past three years, the city's exhibit has been organized by "Print Matters" and this year, LSC-Kingwood is a participating venue. The artists/educators' works will feature a range of tactics to print making and artist books including etching, engraving, silkscreen, chine colle, inkjet and Xerox transfer.
"The students and community will gain a greater view of the world of original prints," Larson said.
Dass' pieces are held in wide-ranging public collections at the Brooklyn Museum of Art, the Philadelphia Museum of Art, the Virginia Museum of Fine Arts, the Walker Art Center, the Alvar Aalto Museum in Jyväskylä, Finland, the Rare Books Division of the Library of Congress and at numerous universities. Dass teaches drawing, paper making, print making, and book arts at the University of Virginia and lectures on issues related to contemporary practice.
Fernandez's works are on display in cities across the United States and abroad, including New York, Chicago, Dallas, Toronto, Brooklyn, Buffalo, Baltimore, Quito, Buenos Aires, Granada, Michoacán, Cuernavaca, Bogotá, Palestine, Barcelona, Bali, Kyoto, and Hangzhou. Her works are represented in collections at the Smithsonian American Art Museum, the San Antonio Museum of Art (SAMA), Mexic-Arte Museum, the Museo de la Casa de la Cultura in Quito, Ecuador, the Art Museum of South Texas, the Nettie Lee Benson Latin American collection, the Biblioteque Nationale in Paris, the Kohler Art Library and the Gilberto Cardenas collection of Latino Art. Fernandez is currently an assistant professor at the University of Texas-Austin and the co-director of the Guest Artists in Printmaking Program (GAPP).
Gibbons' work explores ideas from ecology, environmental philosophy and natural history. Her award-winning work is held in numerous collections, including the Beijing Natural Culture Center, Musée d'Art Contemporain de Chamalières and the New York Public Library. She has been an artist-in-residence at Anchor Graphics in Chicago, Banff Centre in Canada, Penland School of Crafts in North Carolina and Ucross Foundation in Wyoming. Gibbons' work is reproduced in catalogs, journals and books, most notably, "The Best of Printmaking: An International Collection". She currently serves as editor of The Mid America Print Council Journal and is an associate professor of art at the University of North Texas, where she teaches print making and directs the Print Research Institute of North Texas (P.R.I.N.T Press).
LSC-Kingwood's Fine Arts Gallery is located in the Performing Arts Center. Gallery hours are Monday through Thursday 11 a.m.-5 p.m. or by appointment. It is closed on the weekends. For information, email Kris Larson at KC.ArtGallery@LoneStar.edu.
Register now for credit classes online through myLoneStar. Classes are offered days, evenings, or weekends in traditional, Internet, video, TV and independent study formats. For more information on how to register online, visit www.lonestar.edu/registration.
For general information about Lone Star College-Kingwood, call 281.312.1600 or visit http://lonestar.edu/kingwood.htm.
Lone Star College System has been opening doors to a better community for 40 years. Founded in 1973, LSCS remains steadfast in its commitment to student success and credential completion. Today, with 78,000 students in credit classes, and a total enrollment of more than 90,000, Lone Star College System is the largest institution of higher education in the Houston area and the fastest-growing community college system in the nation. Dr. Richard Carpenter is the chancellor of LSCS, which consists of six colleges including LSC-CyFair, LSC-Kingwood, LSC-Montgomery, LSC-North Harris, LSC-Tomball and LSC-University Park, five centers, LSC-University Center at Montgomery, LSC-University Center at University Park, Lone Star Corporate College, and LSC-Online. To learn more visit LoneStar.edu.
###