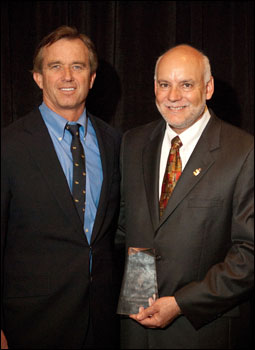 Dr. Bill Coppola was the honored recipient of the Administrator Award of Distinction for LSC-Kingwood's chapter of Phi Theta Kappa at the recent International Convention in Grapevine, TX. Only 25 individuals are recognized each year, chosen from over 1400 chapters.
Alpha Lambda Xi, LSC-Kingwood's chapter of Phi Theta Kappa, the international honor society for two-year colleges, nominated Dr. Bill Coppola for the Administrator Award of Distinction for being an enthusiastic supporter, exemplary leader, and distinguished visionary for the group.
The Distinguished Administrator Awards are awarded to community college vice presidents, deans or leaders other than college presidents/CEOs serving the community college in an administrative capacity. A college administrator may receive this award only once.
The nomination form submitted by Alpha Lambda Xi officers says, "Dr. Coppola's vision and inspiration provide a flow of ideas promoting the chapter at the college, within the community, and at every level of Phi Theta Kappa."
Coppola says he feels honored and humbled by this award. Being nominated by the chapter members makes this award extra special. He says, "It means so much to me that the nomination came from the students themselves. During my time as vice president [at LSC-Kingwood], I have worked hard to stay in touch with our students, and make sure that their time at LSC-Kingwood is both rewarding and productive."
As a supporter of Alpha Lambda Xi, Dr. Coppola supports the group by insuring ample funding for civic engagement and scholarships, as well as meeting space. Along with that support, Dr. Coppola routinely participates in chapter activities and makes it his personal mission to get to know students and develop meaningful relationships with them.
"What I enjoy most is the involvement with the students and watching them find out so much about themselves."
It appears Alpha Lambda Xi members feel the same. "Dr. Coppola's support on campus has been wonderful. He sits in on chapter meetings, he speaks to the chapter during meetings, he is always willing to help us any way that he can, and he gives us every opportunity possible on campus to become more involved," says Katelyn Monk, chapter president.
Alpha Lambda Xi's chapter advisor, Debbie Esparza, says "I was thrilled to hear about the award. Dr. Coppola has been a tremendous support to our chapter and certainly is deserving of this prestigious award."
"Dr. Coppola has such a passion for education and strives to help others around him succeed," said Monk. "He is also great at seeing people with potential and pulling it out of them."
Dr. Coppola says Phi Theta Kappa's mission is to bring out the leader in each individual and build a community of scholars. "A person cannot become an effective leader until they find out about themselves. A position in leadership does not necessarily make you a leader." He says Phi Theta Kappa promotes activities that allow students to explore themselves, helps them find their passion, and gives them confidence in what they can do.
"I have always felt that organizations like Phi Theta Kappa are vital to the growth and development of all students."
Monk agrees, "Phi Theta Kappa has stretched me and pulled me out my shell so much that I am not even the same person. It has opened countless doors and given me some wonderful and useful life experiences."
In addition, the chapter returned from the International Conference with many other distinguished awards. The chapter was named one of the top 100 Chapters Internationally, won a Scholarship Hallmark Award, the Distinguished Chapter President award for Katelyn Monk, and the Paragon Award for New Advisors to Debbie Esparza.
Register today for May Mini-term (May 11-29), Summer Term I (June 1-July 7), Summer Term II (July 9-Aug. 13) and Fall (Aug. 24-Dec. 13). Students can register in one of three ways: phone, online or on campus. Classes are offered days, evenings, or weekends in traditional, Internet, video, TV and independent study formats. Current students can register by telephone at 281-519-6625. Former and current students can register online at Kingwood.LoneStar.edu/registration.
For general information about Lone Star College-Kingwood, call 281-312-1600 or visit our Web site at Kingwood.LoneStar.edu.
Lone Star College System consists of five colleges, including Cy-Fair, Kingwood, Montgomery, North Harris, and Tomball, six centers and the Lone Star College-University Center. With over 50,000 students, it is the largest college system in the Houston area, and third largest community college district in Texas.