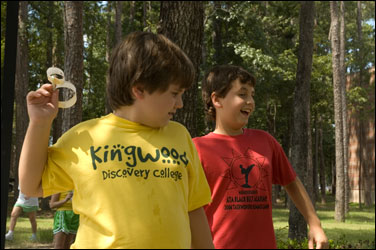 Kids love to experiment and try new things and Discovery College's newest camp let's them do just that!
Coyote Club Sports and Games Camp at LSC-Kingwood's Discovery College will allow campers the opportunity to explore a number of team sports and games, including but not limited to: tennis, basketball, soccer, racquetball, volleyball, kickball, dodge ball, ultimate Frisbee, and track and field events.
"Naturally, parents always want the best for their children and giving them skills and techniques from many disciplines will only expand their potential in whatever sport they choose," says Jeff Black, tennis instructor at LSC-Kingwood.
Black will run the Sports and Games Camp and says each sport develops important skills that can be applied in many situations. Students will learn footwork from soccer, hand-eye coordination from tennis, and physical development from aerobic and anaerobic sports.
Being a tennis coach, Black has a special place in his heart for tennis, saying it's the best sport ever, but he also acknowledges that it's important for children to pursue their own individual interests.
Black says even the slightest bit of progress means confidence and empowerment. "All of our participants, regardless of skill level, have the chance to grow as an athlete and as a person, while experiencing the positive impact that sports can forever have on their lives."
This camp will be offered six different weeks from 8:30 a.m. to 12:30 p.m. Campers will be divided into age-appropriate groups for team sports. Campers should bring their own tennis racket, water bottle and gym towel. All other equipment will be provided.
Discovery College begins June 15 and runs through July 31. Camps are offered Monday through Friday and change weekly. Morning sessions are held 8:30 a.m. - 12:30 p.m. and afternoon sessions are held 1 - 5 p.m. Students may attend a morning session, an afternoon session, or both. Those attending both a morning and an afternoon session will need to bring a sack lunch. All Discovery College participants will receive a Discovery College t-shirt. Camps cost $85.
The catalog is available online at Kingwood.LoneStar.edu/discoverycollege. Registration is going on now. Register in one of three ways: by fax (281-312-1612), in person (CLA, room 107), or by phone (281-312-1660 or 281-312-1661).
Register today for May Mini-term (May 11-29), Summer Term I (June 1-July 7), Summer Term II (July 9-Aug. 13) and Fall (Aug. 24-Dec. 13) credit classes. Students can register in one of three ways: phone, online or on campus. Classes are offered days, evenings, or weekends in traditional, Internet, video, TV and independent study formats. Current students can register by telephone at 281-519-6625. Former and current students can register online at Kingwood.LoneStar.edu/registration.
For general information about Lone Star College-Kingwood, call 281-312-1600 or visit our Web site at Kingwood.LoneStar.edu.
Lone Star College System consists of five colleges, including Cy-Fair, Kingwood, Montgomery, North Harris, and Tomball, six centers and the Lone Star College-University Center. With over 50,000 students, it is the largest college system in the Houston area, and third largest community college district in Texas.