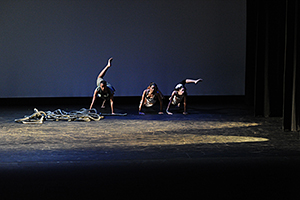 Lone Star College-Kingwood's Student Dance Company will present its fall Student Dance Showcase on Nov. 8 at 7:30 p.m.
Held in the Fitness and Training Center room 101, the performances are a culmination of the semester's work by LSC-Kingwood students. This is the first performance under the college's new Student Dance Company. The new company supports students in the creation and development of original choreography and allows for additional performance opportunities.
"We invite the audience to our fall event to showcase the students' improvement as well as their creative voices," said Kalee Irwin, student and dance company manager.
LSC-Kingwood students performing are Irwin, Delana Harvel, Kiandris Allen, Kathy Delgado, Marc Lopez and Lizzy Woodson. Student choreographers, who will present their own works, are Lopez, Allen, Irwin and Woodson.
The LSC-Kingwood Student Dance Company was created to equip students with hands-on experience of working for a small company. Students choreograph, rehearse, and refine their works with the desired goal of performing in the concert at the end of each semester. Student members may be budding choreographers, performers, or both in a variety of dance idioms.
"Amy Llanes and I are impressed by the depth of material that the students have explored this semester in creating their works. The students are digging deep to express themselves through dance in new and profound ways," said Trish King, adjunct faculty of dance.
Lopez's choreography is an intense journey through different phobias such as claustrophobia, agoraphobia, and all in between. Allen's dance routine is a contemporary duet that shows the developing relationship between sisters. Irwin's and Woodson's Blue is the Human Color arrangement will signify that although humans are different in many ways, it is the similarities that brings them together.
General admission tickets for the Student Dance Showcase are $5 and will be available at the door. For additional information, call 281-312-1709.
Register now for credit classes online through myLoneStar. Classes are offered days, evenings, or weekends in traditional, Internet, video, TV and independent study formats. For more information on how to register online, visit www.lonestar.edu/registration.
For general information about Lone Star College-Kingwood, call 281.312.1600 or visit http://lonestar.edu/kingwood.htm.
Lone Star College System has been opening doors to a better community for 40 years. Founded in 1973, LSCS remains steadfast in its commitment to student success and credential completion. Today, with 78,000 students in credit classes, and a total enrollment of more than 90,000, Lone Star College System is the largest institution of higher education in the Houston area and the fastest-growing community college system in the nation. Dr. Richard Carpenter is the chancellor of LSCS, which consists of six colleges including LSC-CyFair, LSC-Kingwood, LSC-Montgomery, LSC-North Harris, LSC-Tomball and LSC-University Park, five centers, LSC-University Center at Montgomery, LSC-University Center at University Park, Lone Star Corporate College, and LSC-Online. To learn more visit LoneStar.edu.
###