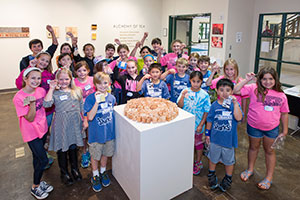 Shadow Forest Elementary fifth grade students proudly display their artwork after visiting LSC-Kingwood's "Alchemy of Tea" exhibit.
Days before summer break, students at Humble Elementary and Shadow Forest Elementary schools participated in art workshops that included a tour of the "Alchemy of Tea" exhibition in Lone Star College-Kingwood's Fine Arts Gallery. The workshops were coordinated by the art gallery and Humble Independent School District.
"Our goal was to introduce elementary school students to their local art gallery and for them to learn about the artists in the 'Alchemy of Tea' exhibit'," said Kris Larson, gallery director. "The workshops are a place for students to incorporate what they are seeing and hearing into their own handmade art works."
In preparation for the fieldtrip, elementary students were asked to write an essay explaining why they would like to visit an art gallery.  Students who wrote the best essays were invited to participate in the gallery tour and hands-on activities.
"Touring the art gallery and being part of the workshop, broadens students understanding of art and culture," said Julie Gallow, art teacher at Humble Elementary School. "We are very excited about being here for the first time. We look forward to continuing this and having more workshops planned for next year."
In addition to the art gallery tour, LSC-Kingwood professor Mari Omori talked about the history of tea and provided information and materials for students to create their own teabag artwork.
"The fragility and golden hues found in this collection project the historical and spiritual roots of tea. At the same time, each artist's subjects are widely varied and bring a contemporary take on tea as a medium and an inspiration," Omori said.
"I wanted to go to the workshop to learn more about tea. I learned how to use recycled teabags to be creative and design anything," said Dylan Jackman, fifth grader at Humble Elementary School.
"I thought it was very creative to reuse something like teabags to make art," said Sydney Morris, fifth grader at Shadow Forest Elementary. "I thought stains were a nuisance, but this experience taught me that stains can be used to make different patterns and art pieces."
The community is invited to visit the "Alchemy of Tea" exhibit now through June 24. Also for this exhibit, specially made tea bowls were created by Jeff Forster, Glassell School of Art professor; Cory Cryer, LSC-Kingwood professor; and ceramics students.
"Alchemy of Tea" has previously shown in North Carolina and is on view at LSC-Kingwood courtesy of the artists and the show curator, Jen Crickenberger, of The Cornelius Art Center. The show includes the work of six American artists: Elizabeth Alexander, Barbara Bartlett, Bridget Conn, Jennifer Coyne Qudeen, Mari Omori, a LSC-Kingwood art professor; and Rodney Thompson.
LSC-Kingwood's Fine Arts Gallery hosts eight-10 events a year and features work by students, faculty, regional and internationally known artists. Located in the Performing Arts Center (PAC), room 114, the gallery is about one half hour north of downtown Houston.
The gallery is open Monday through Thursday from 11 a.m.-5 p.m., and closed on weekends. All gallery events are free and open to the public. For more information call 281-312-1534 or www.LoneStar.edu/arts-kingwood.
Register now for credit classes online through myLoneStar.  Classes are offered days, evenings, or weekends in traditional, Internet, video, TV and independent study formats. For more information on how to register online, visit www.lonestar.edu/registration.
For general information about Lone Star College-Kingwood, call 281.312.1600 or visit http://lonestar.edu/kingwood.htm.
Lone Star College System has been opening doors to a better community for 40 years. Founded in 1973, LSCS remains steadfast in its commitment to student success and credential completion. Today, with 78,000 students in credit classes, and a total enrollment of more than 90,000, Lone Star College System is the largest institution of higher education in the Houston area and the fastest-growing community college system in the nation. Dr. Stephen C. Head is the chancellor of LSCS, which consists of six colleges including LSC-CyFair, LSC-Kingwood, LSC-Montgomery, LSC-North Harris, LSC-Tomball and LSC-University Park, five centers, LSC-University Center at Montgomery, LSC-University Center at University Park, Lone Star Corporate College, and LSC-Online. To learn more visit LoneStar.edu.
###