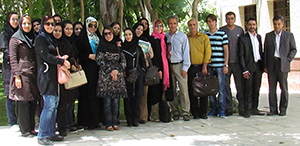 While visiting family in Iran, married ESOL professors decided to put their talents and knowledge to good use.
Dr. Masoud Shafiei, director of ESOL at Lone Star College-Kingwood, and his wife, Alice Savage, ESOL professor at LSC-North Harris, offered two free English workshops to teachers in Iran. The workshops focused on using learner-centered, grammar practice activities to teach English to Iranian students in kindergarten through 12th grade and college students.
"This was the second time that we conducted workshops for English teachers in Iran. The first time was in 2009," Shafiei said. "We wanted to learn more about how English is taught in other countries and this was a good way to make connections and share knowledge."
The workshops were held at a university and at a private language school in Isfahan, Iran's second largest city and a popular tourist destination. Approximately 35 teachers and professors attended each session which was approximately three hours long. Through the workshops, Shafiei and Savage spoke with the attendees and listened to how they engage students in the learning process, what their students' goals are for learning English and what types of materials and technology they use.
"We enjoyed connecting with these teachers. First we were impressed with the level of the participants' English and their enthusiasm for what they were doing. It was also surprising that we were doing such similar things even though we are on opposite sides of the planet," Savage said.
Shafiei stated that the attendees were interested in the higher levels and had many questions about academic preparation.
"They were keen to learn strategies that we use at Lone Star College System (LSCS) to prepare English learners for college level courses," he said.
Shafiei has worked at LSC-Kingwood for 12 years. He earned a Bachelor of Arts degree in Applied English Linguistics from the University of Isfahan in Iran. After immigrating to the United States, Shafiei received a Master of Arts degree in Applied English Linguistics and a doctorate in curriculum and instructions from the University of Houston. Savage has worked at LSC-North Harris for 17 years. She earned a Bachelor of Arts degree in English from the University of Washington and a Master of Arts degree in Teaching English to Speakers of Other Languages (TESOL) from the School for International Training.
For more information on LSCS' ESOL programs, visit http://www.lonestar.edu/esol-dept.htm.
Register now for credit classes online through myLoneStar. Classes are offered days, evenings, or weekends in traditional, Internet, video, TV and independent study formats. For more information on how to register online, visit www.lonestar.edu/registration.
For general information about Lone Star College-Kingwood, call 281.312.1600 or visit http://lonestar.edu/kingwood.htm.
Lone Star College System has been opening doors to a better community for 40 years. Founded in 1973, LSCS remains steadfast in its commitment to student success and credential completion. Today, with 78,000 students in credit classes, and a total enrollment of more than 90,000, Lone Star College System is the largest institution of higher education in the Houston area and the fastest-growing community college system in the nation. Dr. Richard Carpenter is the chancellor of LSCS, which consists of six colleges including LSC-CyFair, LSC-Kingwood, LSC-Montgomery, LSC-North Harris, LSC-Tomball and LSC-University Park, five centers, LSC-University Center at Montgomery, LSC-University Center at University Park, Lone Star Corporate College, and LSC-Online. To learn more visit LoneStar.edu.
###