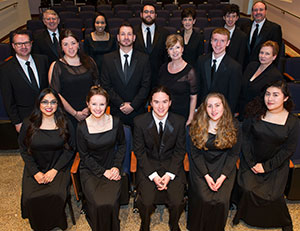 LSC-Kingwood's Evok will perform with Josh Groban on Oct. 26 at 7:30 p.m. at the Hobby Center for the Performing Arts.
As thousands of people pack the Hobby Center for the Performing Arts to hear Josh Groban, they will also be entertained by the Eclectic Voices of Kingwood (Evok).
Evok, a Lone Star College-Kingwood choir, was asked to perform back up for Groban's concert on Oct. 26 at 7:30 p.m. It is a prestigious honor to work with a celebrity of this caliber.
"Josh Groban is an international star known for healthy, beautiful and emotionally moving music. I hope they (Evok) will learn more about the entertainment business and learn from Mr. Groban on how he has achieved and sustained his success as a professional musician," said Dr. Todd Miller, LSC-Kingwood music professor and Evok conductor. "I hope this experience will inspire our talented students to keep chasing their dreams!"
The choir will sing the final song in each half of the program. They will perform "Anthem" a song from the musical "Chess" and "You'll Never Walk Alone" from "Carousel".
"This is a once in a lifetime experience and I will remember it forever. I grew up listening to Josh Groban and it will be an emotional experience for me. I can't wait!" said Kristian Bautista an Evok member and a music education major at LSC-Kingwood. "This is a really big deal, as he is really famous. It will be a story that I will be able to tell for the rest of my life."
Prior to the concert, 20 LSC-Kingwood credit and continuing education students will have a chance to meet and rehearse with Groban.  Although this is the group's first time to perform with a celebrity of this stature, it is not new to singing in impressive venues.
In 2007, LSC-Kingwood music students along with local community and church choirs joined and performed as the Kingwood Area Grand Chorus at Carnegie Hall.
"This will be a great learning experience for me since he is a professional and a really good singer. I am really excited to perform with someone as talented as Mr. Groban," said Alexandra Garcia, an Evok member and a vocal performance major at LSC-Kingwood. "I hope to learn better stage presence from him and what it is like to perform on a professional stage in front of a large crowd."
Tickets to the Josh Groban concert are $250 apiece and can be purchased through Ticketmaster or the Hobby Center Box Office.
Formed in 2012, Evok is an eclectic group of 16 select voices, auditioned from the student body of LSC-Kingwood and incorporating professional musicians from the surrounding community who act as mentors to student performers. The choir's unique repertoire includes a broad range of vocal genres such as madrigals, sacred motets, vocal jazz, modern, American classics, popular and more.
In addition to performing with Groban, Evok invites the community to its first fall concert on Oct. 23 at 7:30 p.m. at St. Martha Catholic Church. Tickets are $10 and the church is located at 4301 Woodridge Parkway in Porter.
For more information on Evok, visit http://lsc-kingwoodchoirs.weebly.com/ev333k-press-kit.html. For more information on Groban, visit http://www.joshgroban.com/stages.
Register now for credit classes online through myLoneStar.  Classes are offered days, evenings, or weekends in traditional, Internet, video, TV and independent study formats. For more information on how to register online, visit www.lonestar.edu/registration.
For general information about Lone Star College-Kingwood, call 281.312.1600 or visit http://lonestar.edu/kingwood.htm.
Lone Star College System has been opening doors to a better community for 40 years. Founded in 1973, LSCS remains steadfast in its commitment to student success and credential completion. Today, with 78,000 students in credit classes, and a total enrollment of more than 90,000, Lone Star College System is the largest institution of higher education in the Houston area and the fastest-growing community college system in the nation. Dr. Stephen C. Head is the chancellor of LSCS, which consists of six colleges including LSC-CyFair, LSC-Kingwood, LSC-Montgomery, LSC-North Harris, LSC-Tomball and LSC-University Park, five centers, LSC-University Center at Montgomery, LSC-University Center at University Park, Lone Star Corporate College, and LSC-Online. To learn more visit LoneStar.edu.
###